CSUN to Screen Documentary on Company that Employs Those with Disabilities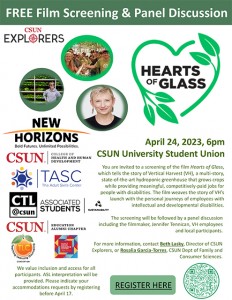 The public is invited to join California State University, Northridge officials on Monday, April 24, at 6 p.m. for the screening of "Hearts of Glass," a documentary about a state-of-the-art hydroponic growing facility that provides lucrative jobs to people with disabilities.
The screening is scheduled to take place in CSUN's University Student Union, located on the east side of campus off Zelzah Avenue just south of Plummer Street. Filmmaker Jennifer Tennican and employees of the hydroponic company Vertical Harvest will take part in a panel discussion at the movie's conclusion.
 "Hearts of Glass is an example of how a community can come together to provide innovative food production and an inclusive competitive work environment for people with disabilities," said special education professor Beth Lasky, one of the event's organizers.
"Hearts of Glass" explores Vertical Harvest's origins and spotlights the personal journeys of several of the company's employees, some of whom have intellectual and developmental disabilities.
ASL interpreters will be provided at the screening. Those needing additional assistance should make organizers aware when registering to attend the event. Registration for the event can be done at the following website, https://www.eventbrite.com/e/hearts-of-glass-film-screening-and-panel-discussion-tickets-559964387557.