CSUN Wind Ensemble Concert Will Take Your Breath Away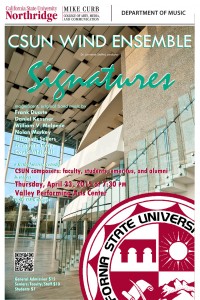 California State University, Northridge's CSUN Wind Ensemble and Symphony Orchestra will thrill audiences on Thursday April 23 in a special performance at the Valley Performing Arts Center (VPAC).
"Every time we perform at the VPAC, it's a great opportunity for the community to see the high quality of work the students are able to achieve," said Ric Alviso, the chair of the Department of Music.
The show is scheduled to take place at 7:30 p.m. in the center, located at the Southern end of the campus of 18111 Nordhoff St. in Northridge.
"This program will be a showcase of everything that is wonderful about the CSUN music program, our performance majors, as well as faculty and student composers," said Alviso.
"There should be something for everyone at this concert," he continued. "Attendees will be impressed with the professional level of talent in the hall. And why battle traffic and crowds at Disney Hall or the Hollywood Bowl when you can have a concert experience of this quality right here in Northridge?"
The CSUN Wind Ensemble "Signatures" festival concert will feature all CSUN composers. Faculty, students, emeritus and alumni will be incorporating original band music by CSUN students Frank Duarte and Nolan Markey, CSUN emeritus professors Daniel Kessner and David Whitwell and CSUN faculty members William V. Malpede and Elizabeth Sellers.
"The CSUN Wind Ensemble students are engaging with faculty in a way that is seldom afforded in the classroom" said Lawrence Stoffel, the director of bands for the Department of Music at CSUN. "Here in the rehearsal hall and on the concert stage, these students are discovering a whole other host of talents that the faculty possess."
The CSUN Wind Ensemble has long been a hallmark of the excellence associated with the university's renowned music department. The group regularly performs throughout California at a variety of venues — from public schools and state parks and cultural landmarks to the Walt Disney Concert Hall.
California State University, Northridge's music program is consistently rated among the top in the nation. Few institutions can boast such highly recognized music industry, music therapy, media/film composition, jazz and vocal and instrumental performance programs. Graduates of the program immediately find opportunities in Los Angeles' bustling music industry and film business. Performance majors go on to perform with major orchestras and opera companies.