CSUN's Annual Dance Showcase to Highlight Students' Original Routines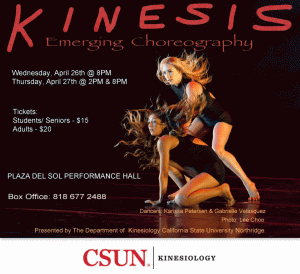 The spotlight will shine on the talents and visions of California State University, Northridge's student dancers and choreographers later this month at the university's annual dance showcase.
"Kinesis: Emerging Choreography" will take place at 8 p.m. on Wednesday, April 26, and 2 p.m. and 8 p.m. on Thursday, April 27, in the Plaza Del Sol Performance Hall, located in the University Student Union (USU) on the east side of the campus at 18111 Nordhoff St. in Northridge.
The showcase will demonstrate the diverse choreographic visions, creative innovation, passionate dancing and powerful performances crafted by undergraduate students in the dance program in CSUN's Department of Kinesiology.
"Kinesis is the combination of form and the sensation of movement," said kinesiology professor Paula Thomson, head of CSUN's dance program. "Dance at its best does just that — the dancer and the audience viscerally experience movement and sense the coherent form inherently."
The cost to attend the showcase is $15 for students and senior citizens, and $20 for the general public. Tickets are available at the Associated Students Ticket Office, located outside the Plaza Del Sol Performance Hall in the USU.
For more information about the showcase, contact the CSUN Department of Kinesiology at (818) 677-3205. For ticket information, please call the Associated Students Ticket Office at (818) 677-2488.