CSUN's V-Day Organizes Ninth-Annual Performance of Eve Ensler's The Vagina Monologues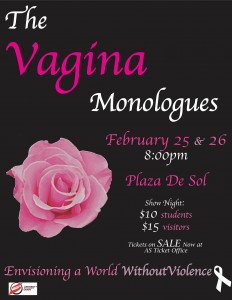 Some people associate feminism with extreme activism against men and body positivity with arrogance. American playwright and feminist Eve Ensler wanted to take action against this negative reputation, writing the prominent play The Vagina Monologues in response.
California State University, Northridge's student chapter of the international charity organization V-Day is presenting its ninth-annual performance of The Vagina Monologues on Feb. 25-26, to raise awareness about feminism, body positivity and sexual assault.
"The entire point is to educate people about violence against women and girls," said Frances Ramsel, CSUN's V-Day chapter president sophomore in deaf studies. "While sexual and domestic violence is not exclusive to women, it does affect women disproportionately [more] than it does men. That's basically what The Vagina Monologues does — it takes these stories of women who are survivors."
The play also includes messages empowering women to be comfortable with their bodies, regardless of previous experiences or relationships that might have affected them. But the play is not targeted at women only. Ramsel equally encouraged male students to see the play, since they can help change the current perspectives on body image.
V-Day historian Andrew Dorward, a CTVA sophomore agreed and said it is important for people to be exposed to different types of sexuality, and for males to see women confident in their bodies that don't look like the ideal.
"[The play] is going to open their eyes to something they haven't thought about before or give them a new perspective on the matter," Dorward said. "I watched the show and actually saw a lot of things I was going through in previous relationships. Or, I wasn't aware I was doing those things until I actually saw them in front of me. I think that's another reason why men should come see this. There are male characters in these monologues — some of them you cringe at, and some of them you're really inspired to be."
The international V-Day organization grew out of Ensler's The Vagina Monologuesin 1996. The CSUN chapter was founded in 2003. The chapter currently has 25 members and is fairly small for a CSUN student organization.
"One of the things we struggle with the most is that even though we're an organization backed by the university, we don't get a lot of other support, because people are afraid of being associated with that kind of [aggressive] feminism, which is not what we are," Ramsel said.
"The responses I get from people when I tell them about this project are so negative at first," she continued. "It just comes from making snap judgments, I think. If you're empowering yourself and use the word vagina, it automatically sexualizes it and turns into something promiscuous. It shouldn't be this way."
Ramsel and Dorward said they hope to achieve a change in the community's mindset if many people come to see the play and learn about V-Day's mission.
"Sexual violence happens. Rape happens. Domestic violence happens," Ramsel said. "It happens to people you know. It's just not getting the attention that it should be getting."
The Vagina Monologues has been translated into 48 languages and performed in more than 140 countries. Most countries also have V-Day chapters, which seek to establish movements against violence in individual communities.
The performances on Feb. 25-26 will be held at the Plaza del Sol Performance Hall in the University Student Union. Tickets can be purchased at the AS Ticket Office or at the door. Student tickets are $10 with a valid CSUN student ID, and non-student tickets are $15. All proceeds will be donated to Strength United and Children of the Night, two nonprofit organizations dedicated to ending abuse.
For more information, visit https://www.facebook.com/CSUNVDAY/ or emailcsun.vday@gmail.com.