CSUN's Wind Ensemble to Bring the Gift of Music to State Prisoners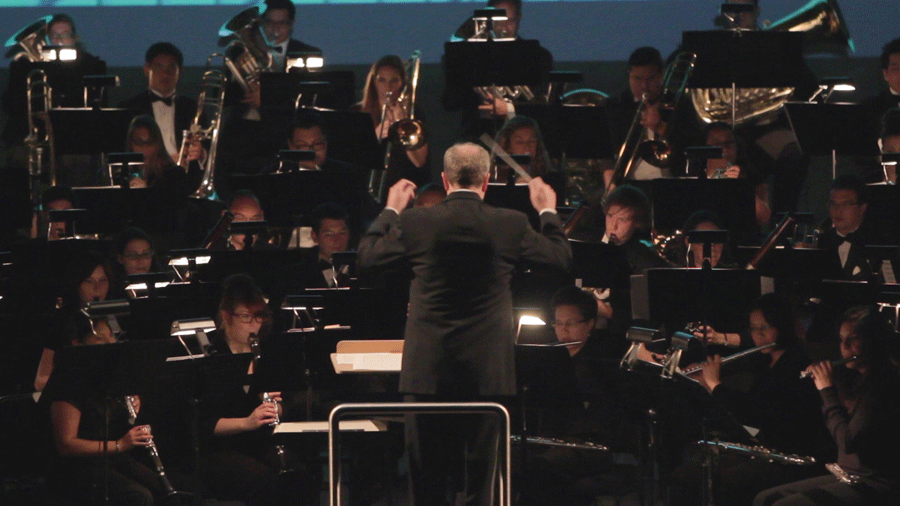 CSUN's Wind Ensemble. Photo by Richard Chambers.
Music is often a very personal exchange — in many ways a gift from the heart — between the performer and the listener.
Members of California State University, Northridge's acclaimed Wind Ensemble hope to give their audience an afternoon to remember on Sunday, Dec. 8, when they perform a special holiday concert for the inmates at the California Institution for Women in Corona.
"This performance is a way for us to give in a unique way to continue in the university's tradition of commitment to meeting the needs of the community," said CSUN music professor Lawrence Stoffel, director of the Wind Ensemble. "While the Wind Ensemble has performed for community groups before, this performance is extraordinary. Many of the incarcerated women may have never seen a live band performance of this type before, and we hope to connect with them on a level that can only be accomplished through music. Music has a warmth, a power and a versatility to stir emotions."
The Dec. 8 performance is restricted to the correctional facility's inmates, who had to earn the privilege to attend the concert, which was coordinated with the help of the prison's chaplain. "The chaplain informed us that the response has been tremendous," Stoffel said. "The women are looking forward to it."
Student Mary Cervantes, a senior flute performance major, said she too is looking forward to Sunday's performance.
"It's a performance experience I've never had before," she said. "In fact, most people will never get a chance to perform in a prison.
"I've talked to several people who have performed in a prison before, and each of them told me the same thing: I would never play for an audience that was more grateful," Cervantes continued. "Performing music is such a joy for me, and I believe that this particular concert will be an incredibly rewarding experience for everyone in the Wind Ensemble. I hope that the prisoners we will be performing for will leave the concert feeling the same way. Music speaks to all of us as humans, regardless of our different backgrounds."
The CSUN Wind Ensemble has long been a hallmark of the excellence associated with the university's renowned music department. The group regularly performs throughout California at a variety of venues — from public schools and state parks and cultural landmarks to the Walt Disney Concert Hall.
Stoffel said he grappled with the idea of the ensemble giving a performance to prison inmates for a number of years before he decided to finally reach out to state prison officials earlier this year to see if they were interested. He said he felt the experience would provide the students an opportunity to gain skills needed, beyond just playing an instrument, to be a successful musician. It was also a chance to share the beauty that music can evoke with people who may have never seen a live concert.
It will take hours for Stoffel and the 45 students who make up the CSUN Wind Ensemble to pass through the security gates at the prison.
"Every student and myself already received a preliminary security clearance," he said. "The scrutiny level was so high that we knew that any one of use could be rejected, and we would never know the reason why. But, so far, we've all received clearances.
"I mentioned to the students that the performance could be a profound experience for these women," Stoffel added. "But I don't think that they, or I, will fully appreciate that until the concert it done."