Father of Modern Rock Les Paul Will Rock CSUN
California State University, Northridge students and the greater community will have a chance to "meet" the father of modern music, Les Paul, at a free interactive traveling exhibit on Feb. 2 and 3 on the campus at 18111 Nordhoff St. in Northridge.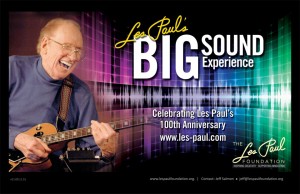 Les Paul's Big Sound Experience will immerse visitors in the world of Les Paul and learn about his innovations in music, and take part in his legacy by making and mixing music from 10 a.m. to 4 p.m. on Feb. 2 and from 9 a.m. to 3 p.m. on Feb. 3, in front of the Valley Performing Arts Center on Nordhoff St.
Created by the Les Paul Foundation, Les Paul's Big Sound Experience has been traveling the nation visiting universities, music festivals, special events and trade shows, all in celebration of Les Paul's 100th Anniversary. Paul is known as the "father of modern music" because of his huge contribution in inventing the solid-body electric guitar and multitrack recording. He was also a popular recording artist in the 1950s and had several chart-topping hits such as "How High the Moon" and "Vaya Con Dios."
"Without him, rock and roll as we know it would not be what it is today," said Ric Alviso, a CSUN music professor. "Ninety-nine percent of the recordings and hits you hear on the radio use techniques that he developed back in the 1950's. In 1954-55 came the arrival of a new generation of artists who capitalized upon Les' innovation, the most famous among them Elvis Presley. From that point on, LP's smoother jazz inflected style was superseded by the more energetic and raunchy rock and roll sound."
Alviso said the hands-on activities in the Big Sound trailer will make learning about Les Paul fun for students, regardless of their musical knowledge and ability.
Jeff Salmon, a trustee of the Les Paul Foundation, said Paul's life offers many lessons for students and the public.
"One of the big forces behind accomplishments was persistence — he never took no for an answer," Salmon said. "He had rheumatoid arthritis and was partially deaf. Gibson said no to his solid-body electric guitar for ten years. Capitol records didn't want to release "How High the Moon," but he kept persisting and it became a No. 1 selling hit. [His persistence] allowed him to overcome adversity and become successful."
The trailer holds photos and memorabilia of Paul, but also has activity stations where visitors can mix and make their own music and send their creations digitally to their phones. They can also take a picture "with" Paul and send it to their phones.
Salmon said the interactive nature of the exhibit reflects Paul's spirit.
"Les didn't like the idea of his stuff in a glass case, he wanted people to interact," Salmon said. "He continues to inspire creative and innovative thinking today."
For more information about the tour, visit www.lespaultour.com. For more information about Les Paul and the foundation, visit www.lespaulfoundation.org.