For Those About to Rock, CSUN Cinematheque Salutes You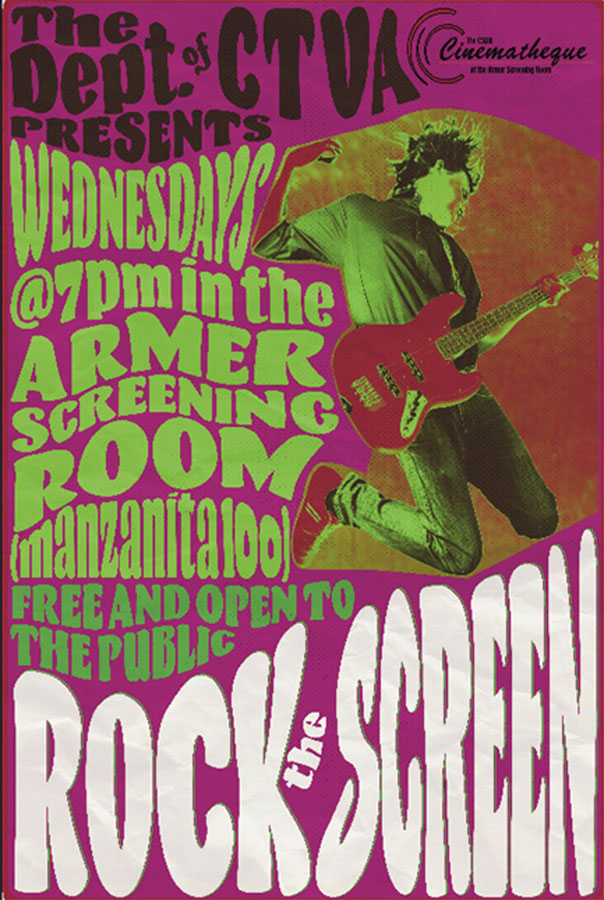 Tune your guitar and cue up your Beatles and Jimi Hendrix albums. California State University, Northridge's Department of Cinema and Television Arts (CTVA) is ready to rock the screen this spring semester, with its next series of free film screenings at the CSUN Cinematheque.
This semester's theme is "Rock the Screen," compiled by CTVA professor Frances Gateward. Gateward chose films that focus on the relationship of popular music — such as rock, reggae and rap — to cinema, as a form of cultural expression.
"Youth cultures offer compelling, critical and often rebellious perspectives on the world, most often using specific music forms," Gateward said.
The free screenings, which are open to students, faculty, staff, alumni and the public, kick off on Jan. 29 with the 1969 classic "Easy Rider." The screenings take place Wednesdays at 7 p.m. in the Elaine and Alan Armer Screening Room in Manzanita Hall.
Twice a year, the Cinematheque brings classic and contemporary films to the San Fernando Valley. The spring series wraps up May 13 with the 2019 film of K-Pop megastars BTS, showing their Aug. 28, 2018, performance at the Seoul Olympic Stadium in Seoul, South Korea — the only concert film in the lineup.
Gateward said she otherwise chose narrative, rather than biopics or concert films, because the soundtrack is part of each picture's narrative drive — at the heart of the films themselves or complementing and sometimes commenting on the stories presented.
The Cinematheque is free to attend and allows audiences to view films as they were originally intended: in a theater, on a big screen, with a great sound system.
"These days, it is hard to get access to classics, independents, international and cult films in theaters," Gateward said.
The "Rock the Screen" lineup includes classics, festival favorites and movies with cult followings around the world:
​Jan. 29 — "Easy Rider" (1969)
Feb. 5 — "A Hard Day's Night" (1964)
Feb. 12 — "Hairspray" (1988)
Feb. 19 — "Quadrophenia" (1979)
Feb. 26 — "Rockers" (1978)
March 4 — "Super Fly" (1972)
March 11 — "Linda Linda Linda" (2005)
March 25 — "Bandits" (1997)
April 1 — "Ladies and Gentleman, the Fabulous Stains" (1982)
April 8 — "No One Knows About Persian Cats" (2009)
April 15 — "Streets of Fire" (1984)
April 22 — "Sing Street" (2016)
April 29 — "Patti Cake$" (2017)
May 6 — "Hearts Beat Loud" (2018)
May 13 — "BTS World Tour: Love Yourself in Seoul" (2019)