Go On a Quest With a Greek Refugee or Enjoy a 'Freaky Friday' at CSUN's Summer Youth Theater
---
Whether it's a story about a refugee on an epic quest to find a home, or the tale of an uber-organized mother and her spontaneous teenage daughter, California State University, Northridge's Teenage Drama Workshop (TADW) has a theatrical adventure for the whole family this summer.
The acclaimed summer youth theater program is presenting "Jason and the Argonauts" from July 5-18 and "Disney's Freaky Friday, A New Musical" from July 11-19 at CSUN.
CSUN theater professor and TADW Executive Director Garry Lennon said the shows are an opportunity for the young people to experience live theater — many for whom it may be the first time — in a welcoming environment.
"For the general public, TADW is a wonderful way to introduce young people to the magic of a live performance," Lennon said. "For the members of our company, TADW is truly an immersive experience of what it is like to work in theater. From 8 in the morning until 5 at night — even later when there are performances — our students are learning from seasoned theater professionals who are passing on their experience and knowledge to the next generation."
TADW, celebrating its 62nd anniversary this summer, started out as an activity for teens, to call attention to the cultural resources available at what was then San Fernando Valley State College. Over the years, the workshop has grown into a nationally acclaimed drama program, with a reputation for nurturing young talent who often find success as professionals in the entertainment industry.
One of the nation's oldest such programs, TADW immerses its troupe of teens — this year, there are 69 students in grades seven to 12 — in the day-to-day reality of a professional theater company, from designing lighting, costumes and sets to learning lines and choreography during an intense six weeks, which began June 10.
In the morning, the teenagers attend classes in acting, voice and dance. They can choose electives in improvisation, musical theater, playwriting, puppetry or the technical aspects of theater production. The afternoons are spent in rehearsal, building sets or putting together costumes and props.
"Jason and the Argonauts" is based on the Greek myth of a refugee who sets out on a quest across the known universe to find a magical golden fleece that will prove his identity and allow him to find a home. To help him, Jason assembles the ultimate crew of misfits and outcasts: Heracles, the strongest man in the world;  Zeles, part man, part god, who possesses the power of flight; Atalanta, a warrior princess raised by bears; and Orpheus, the legendary musician driven mad by grief. Jason's journey brings him face-to-face with terrifying dangers — the Harpies, the giant Amycus and an army of skeletons — before having to face the ultimate peril…himself.
Based on the 1972 novel by Mary Rodgers and the hit Disney films, "Disney's Freaky Friday, a New Musical" is the tale of an uber-organized mother and her spontaneous, teenage daughter who magically swap bodies and only have one day to put things right. Masquerading as each other, they must work together to solve the mystery of how to break the spell. By spending a day in each other's shoes, the two come to appreciate one another in a way they never could have imagined.
In addition to the two plays, TADW also will present its annual "10-Minute Play Festival," where student playwrights explore the dreams and challenges of their lives in original short plays. Students in TADW's playwriting and improvisation electives collaborate to bring the idea from "page to stage" in six weeks. The students in the musical theater elective also give a special performance showcasing their talents.
Performances of "Jason and the Argonauts" are scheduled for 7 p.m. on July 5 and July 11-13 and at 2 p.m. on July 3, with camp shows at 11 a.m. on July 10, 17 and 18 in the Little Theatre in Nordhoff Hall, located at the southwest corner of the campus near Etiwanda Avenue and Nordhoff Street. A "relaxed performance," designed to make the theater experience accessible to children and adults on the autism spectrum or people with special needs, is scheduled to take place at 2 p.m. on July 6.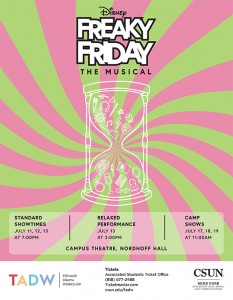 Performances of "Disney's Freaky Friday, a New Musical" are scheduled for 7 p.m. on July 11-12 and camp shows at 11 a.m. July 17-19 in the Campus Theatre, located in Nordhoff Hall. A "relaxed performance" of the show is scheduled for 2 p.m. on July 13.
The "10-Minute Play Festival" is scheduled to take place at 7 p.m. on July 17 in the Little Theatre. The musical theater performance will take place at 7 p.m. on July 19 in the Campus Theatre.
For more information about TADW or any of the performances, call (818) 677-3086, email tadw@csun.eduor visit the website csun.edu/tadw.
Tickets for all shows are $17 for adults and $12 for children, seniors and groups of 10 or more. TADW is also offering two-ticket packages: $30 for the purchase of two adult tickets, and $20 for two child tickets. Tickets can be purchased through the Associated Students Ticket Office on campus or by telephone at (818) 677-2488.