Grammy Winner Patti Austin to Perform at TADW Benefit Concert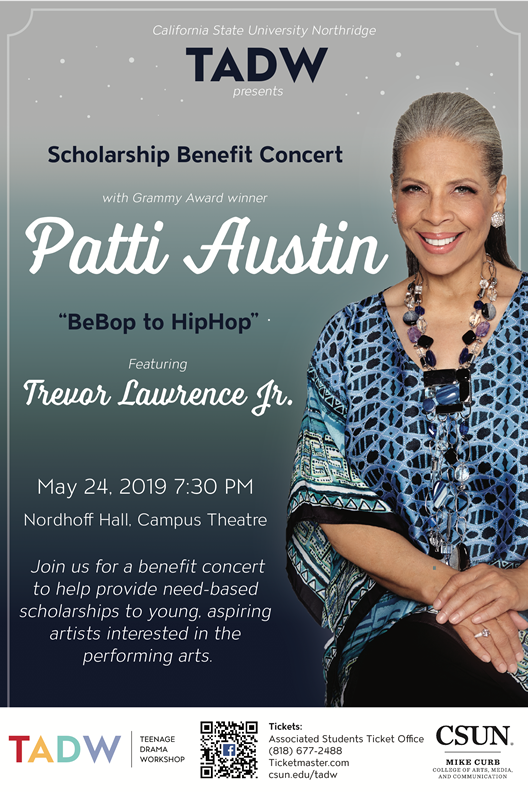 Grammy Award-winning artist Patti Austin, known for her R&B, pop and jazz music, will perform at a benefit concert to support California State University, Northridge's Teenage Drama Workshop (TADW) later this month.
The Scholarship Benefit Concert will take place on Friday, May 24 at 7:30 p.m. in CSUN's Campus Theater. Proceeds from Austin's "BeBop to HipHop" performance will provide scholarships for incoming TADW students.
"TADW is thrilled to have an artist of this caliber for our first benefit concert. Her career is a great example of versatility: an excellent role model for our students," said Garry Lennon, TADW Executive Director.
During the 1970s, Austin was the queen of the New York session scene. As a session musician and background vocalist, her voice was heard behind artists from Paul Simon, James Brown, Bette Midler, Luther Vandross, Diana Ross and countless others.  In 2019, Austin values her philanthropic work with The Over My Shoulder Foundation and keeps up a constant touring schedule that keeps her faithful fans wanting more. In 2008, Austin received the Grammy Award for Best Jazz Vocal Album.
Austin is continuing her philanthropic efforts by using her voice for students who may hope to follow in her footsteps and in all performing arts.
"We strive to make TADW a program for all students interested in theatre and the arts," said Lennon. "We depend on the generosity of our donors to keep the program accessible. Last summer, we gave away over $40,000 in scholarships awards and this year, we hope to award more."
TADW is using all proceeds from this event to benefit TADW students for the summer of 2019. Over the years, 55 percent of TADW students have been able to participate in the summer program because of scholarships. Students usually audition for scholarships in the spring months, prior to attending TADW.
The conservatory-style summer program offers teens — those going into sixth grade through those just graduating 12th grade — the opportunity to develop skills in the theatre arts at the CSUN campus. All students are welcome to attend, no matter their technical background. Students will be placed in classes according to personal interest which includes vocal, acting and set design. Some secondary schools give academic credit for participation in TADW.
A limited number of meet-and-greet tickets will be available for purchase. For more information and to purchase tickets visit: https://www1.ticketmaster.com/csun-tadw-presents-scholarship-benefit-concert-feat-patti-austin/event/0B0056899E862AF1, or call CSUN Associated Students at (818) 677 -2488.