Hollywood Foreign Press Awards CSUN $60,000 for Senior Film Projects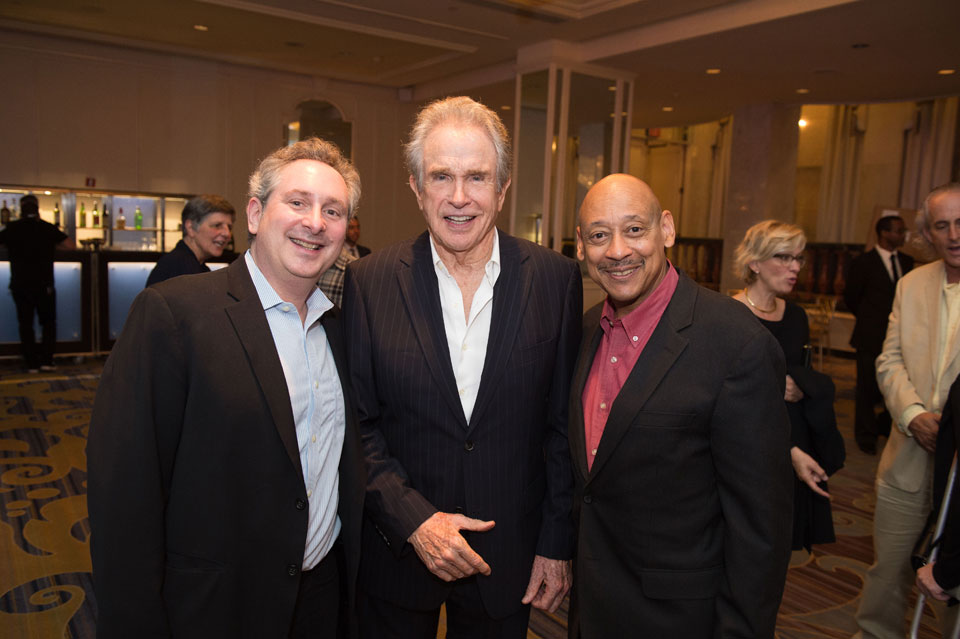 Cinema and television arts department chair Jon Stahl (left) and film option head Nate Thomas (right) with actor Warren Beatty (center) at the Hollywood Foreign Press Association's annual dinner. Photos courtesy of the Hollywood Foreign Press Association.
Justin Timberlake, Hugh Grant, Emma Stone, Gina Rodriguez and Simon Helberg were among the celebrities on hand last month when the Hollywood Foreign Press Association (HFPA) awarded California State University, Northridge $65,000 to support film students.
HFPA gave CSUN $60,000 to support senior film projects and an additional $5,000 toward a $25,000 endowment for scholarships the association set up at the university a couple of years ago. The presentation to CSUN's Department of Cinema and Television Arts was made during the association's star-studded annual dinner. The award comes on the heels of a $2 million gift the organization made to the department earlier this year to support students, including the creation of a Hollywood Foreign Press Association Scholars program, and to enhance technology.
"The Hollywood Foreign Press Association continues to support all aspects of our program," said cinema and television arts professor Nate Thomas, head of CSUN's film production option. "We have become a steadfast partner with them in training the next generation of filmic storytellers and implementing real diversity within the ranks of the industry. Others talk about diversity, while the HFPA puts their money where their mouth is. Even though we got an unprecedented $2 million gift earlier this year, [the most recent grant] is evidence they will continue to support the ongoing senior film projects."
HFPA, which is made up of international journalists who report on the entertainment industry and hosts the Golden Globe Awards each year, handed out nearly $2.4 million in grants to a variety of entertainment-related and charitable organizations at its annual Grants Banquet, held at the Beverly Wilshire Hotel. The donations were for a wide range of projects, including film preservation, higher education, training and mentoring, and the promotion of cultural exchange through film.
CSUN's relationship with the association dates back to 1996. Over the years, HFPA grants have supported student film projects and helped keep CSUN's film program current with the latest technology. Students edit in the Hollywood Foreign Press Association Senior Film Edit Suite on campus, and they work on sound design in a state-of-the-art sound mix facility made possible by a grant from the association.
In January, the HFPA announced a $2 million gift to the university. A portion of the grant created endowed scholarships to support underrepresented film and television students in the industry. Scholarship recipients are named Hollywood Foreign Press Association Scholars and mentored by department faculty and industry professionals.
CSUN's Department of Cinema and Television Arts has an international reputation for producing dedicated and talented entertainment industry professionals who recognize the value of hard work as they learn and continue to perfect their crafts. The department currently enrolls nearly 1,700 undergraduate students and 30 students in its graduate screenwriting program. Its alumni work in all aspects of entertainment media, from writing, producing and directing to manning cameras and having the final say in what project is made. In 2014, The Hollywood Reporter listed CSUN as one of the top film schools in the U.S., and this year, Variety listed CSUN as one of the top 30 film programs in the U.S. and one of the top 40 film programs internationally.