'Jet' Joins 'The Nic Harcourt Show' in the Morning at 88.5-FM
---
The radio personality known as "Jet" is joining the popular "The Nic Harcourt Show" to offer a supporting voice to the legendary DJ's morning broadcast on public, member-supported 88.5-FM.
Harcourt, an internationally recognized DJ, recently celebrated his 2,000th show on the Los Angeles-based Triple-A (adult album alternative) radio station. Jet has been with 88.5-FM for more than four years.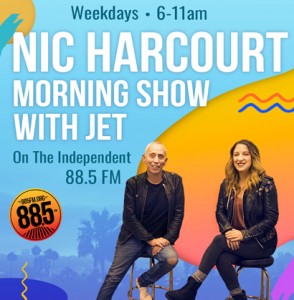 "Jet has done a variety of jobs in her four years at the station, including being on air weekends and evenings, with Nic serving as her on-air mentor," said 88.5-FM General Manager Patrick Osburn. "Nic is truly a national treasure to the broadcast community, and we are thrilled that he invited her to join him in the mornings. You could say Nic flies the plane while Jet brings her producer, social media and night owl skills to round out the journey."
Osburn said the duo's styles complement each other.
He noted that Harcourt is regarded as the "ultimate tastemaker" in music, with many artists — including Adele, Coldplay, Death Cab for Cutie, KT Tunstall, Interpol, Lana Del Rey, The Record Company and Florence + The Machine — crediting the DJ with putting them on the map and helping them achieve success. Jet, Osburn said, is active in the local and national music scene, while still handling promotions and social media for the station.
"From my early days in Woodstock and a three-person morning show to the freeform 'tastemaker' radio of my first public radio gig in Santa Monica and these past eight years at KCSN/KSBR, I've had the good fortune to connect with listeners in meaningful ways," Harcourt said. "We're living in challenging times, and it's more important than ever to spin great music and deliver information the audience can use and, yes, have some fun! Adding Jet to the mix brings a fabulous new perspective for both myself and the audience."
Jet said she loves partnering with Harcourt on the morning show.
"Nic has been such a great mentor and friend since the beginning of my career," she said. "I'm fortunate to continue to learn more about our industry every day from him. My experience at 88.5 has been an amazing ride, and this next chapter will be awesome."
88.5-FM Program Director Marc Kaczor said the station, and especially its morning show, are receiving "great feedback" from their listeners.
"Recent changes in the local morning-show landscape have led many new listeners to discover and appreciate the 88.5 morning show, as well as the entire station's music mix," he said.
"The Nic Harcourt Morning Show with Jet" can be heard on 88.5-FM, Monday through Friday from 6 to 11 a.m.
The station is a combined effort of California State University, Northridge (CSUN) and Saddleback College, which began simulcasting as 88.5 FM in October 2017, linking the Los Angeles County- and Orange County-based signals. The station's Triple-A programming is available on the KCSN and KSBR 88.5 HD1 channels, via the 88.5 app and online at www.885FM.org.