KCSN-FM To Air New Music Series Showcasing SoCal Artists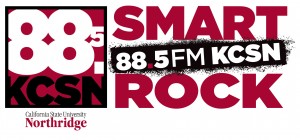 KCSN-FM/Los Angeles, which broadcasts from the campus of California State University, Northridge, is adding a new show to its Friday night line-up, "Studio A," an original music series showcasing Southern California's top musical talent.
The series, produced by KCET — the nation's largest independent public television station serving Southern California — in partnership with KCSN, premieres on Tuesday, March 4, at 10 p.m. on KCET. First runs of the program will air on KCET on Tuesdays, with repeats at 10 p.m. on Fridays. KCSN will simulcast the series Friday nights, beginning March 7 at 10 p.m.
"KCET is a cultural icon in Southern California," said Mark Sovel, KCSN's music director. "88.5 KCSN is honored to partner on a series like 'Studio A,' as we share a commitment to giving a voice to the wide range of extraordinary talent in our city."
Juan Devis, executive producer of the new series and vice president of arts and culture programming at KCETLink.com, said station officials were excited to offer the series to people "passionate about the diverse musical landscape in Southern California."
"Our collaboration with KCSN was a natural fit, as their commitment to independent and emerging artists was in sync with the programming goals for the series," Devis said. "We are excited to provide a multiplatform approach to enjoying this groundbreaking series."
"Studio A" will reflect the diversity of the region through the cultural backgrounds and musical influences of some of Southern California's most prolific artists. The show will feature taped live performances from artists such as Chicano Batman, Best Coast, Run Rifer North, Noah and the Megafauna, Chelsea Wolfe, The Internet, Deap Vally and Aloe Blacc.
The format of the series will showcase an uninterrupted musical set, as well as the stories from which these performers draw their inspiration, including historical and geographical influences. From throwback '70s Latin ballads to neo-soul freak-folk, Mexican Jarocho and Cumbias, Southern California is a musical melting pot. "Studio A" intends to capture the essence of Los Angeles from a musical perspective.
On-air, online and in the community, KCET plays a vital role in the cultural and educational enrichment of Southern and Central California. KCET offers a wide range of award-winning local programming as well as the finest public television programs from around the world. Throughout its 50-year history, KCET has won hundreds of major awards for its local and regional news and public affairs programming, its national drama and documentary productions, its quality educational family and children's programs, its outreach and community services and its website, kcet.org. KCET is a donor-supported community institution. For additional information about KCET productions, web-exclusive content, programming schedules and community events, please visit kcet.org. KCET is a service of KCETLink.
A listener-supported public radio station and a service of California State University, Northridge, 88.5-FM KCSN offers a 24-hour, commercial-free blend of rock, alternative, indie, soul, blues and Americana. The station features artists such as Arcade Fire, St. Vincent, Bruce Springsteen, The Smiths, Haim, David Bowie and Kings of Leon. The station's programming also is available online at KCSN.org.