KCSN Launches L.A.'s First 24-Hour Latin Alternative Station
KCSN-FM/Los Angeles launched Los Angeles' first 24-hour radio station dedicated to playing Latin Alternative music on Wednesday, Nov. 13. The station will be broadcast on KCSN HD2 and streamed live at www.LatinAlt.org.
Los Angeles music icons Los Lobos gave a live studio performance at noon on Nov. 13 to celebrate the launch. KCSN-FM, KCSN HD2 and LatinAlt.org will also re-broadcast Los Lobos' 40th anniversary show at The Whisky A Go Go on Friday, Nov. 15, at 10 p.m.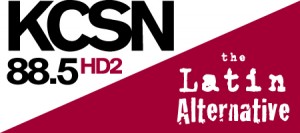 The Latin Alternative HD2 station is the only channel in the Southland that presents all forms of Latin Alternative music – Latin alternative rock, EDM, Indie Pop, Hip-Hop, SalSoul and Rock en Español – all day long. The Latin Alternative channel and its accompanying website are designed to fulfill the needs of fans of modern Latin music in the Los Angeles market and beyond.
"Surprisingly, there is no other station in Los Angeles that serves the Latin Alternative marketplace, so the creation of a 24-hour format for our HD2 channel and website is long overdue," said Sky Daniels, general manager of KCSN, California State University, Northridge's fast-growing Triple-A public radio station. "We recognize that emerging artists in the Latin Alternative format deserve support and that they often have large English-speaking fan bases in the United States who do not listen to Spanish-language radio. We also aim to serve the needs of an emerging community of listeners that desire the great modern music not played anywhere else in Los Angeles."
The new station had its genesis in the nationally syndicated one-hour public radio show "The Latin Alternative," which airs at 9 p.m. on Thursday nights on 88.5 KCSN-FM, the Los Angeles affiliate of the show.
KCSN is partnering with Josh Norek and Ernesto Lechner, hosts of "The Latin Alternative," in launching the new station.
"We have seen growing interest in Latin Alternative music among English speakers for years, as evidenced by the fact that our show 'The Latin Alternative' now airs on more than 30 radio stations across the country," Norek said. "But the commitment by KCSN and Cal State Northridge to make this a 24/7 format with HD2 and online broadcasts is truly unprecedented. It makes sense that a station like KCSN in Los Angeles would take the lead on this initiative, since L.A. is the number one market in the country for Latin-Alt music, and Cal State Northridge has a large acculturated Latino student body. We are thrilled to have committed partners like KCSN and a true believer in Sky Daniels."
With Latinos now constituting nearly 20 percent of the United States population and Latino students currently accounting for 38 percent of CSUN's student body, Daniels said the new station is part of CSUN's Mike Curb College of Arts, Media, and Communications' commitment to developing a new generation of bilingual future broadcasters and journalists by offering mentoring opportunities to students interested in all facets of radio broadcasting, including on-air hosting, news, marketing and production.
Students in CSUN's Department of Journalism — whose converging newsrooms include the bilingual multimedia El Nuevo Sol website, the Daily Sundial app, as well as several other award-winning student-run multiplatform news and media operations — will produce the news programming for the station.
"As a journalism program with a history going back more than a decade of producing news for a bilingual audience, we are very excited about this start-up," said Linda Bowen, chair of CSUN's journalism department. "The new format will give our students an extraordinary opportunity to break new ground as they create and air new content that particularly appeals to this emerging audience."
The department first produced a student-run Spanish-language television newscast in 1999, and unveiled the country's first interdisciplinary minor in Spanish-language journalism in 2006.
A service of California State University, Northridge, KCSN offers a 24-hour, commercial-free blend of rock, Alternative, soul, blues and Americana, including a wide range of artists such as Adele, Bruce Springsteen, Mumford & Sons, Arcade Fire, Steve Earle and Kings of Leon. The station's programming is also available on the station's HD1 channel and online at KCSN.org.