KCSN News Wins Two Golden Mike Awards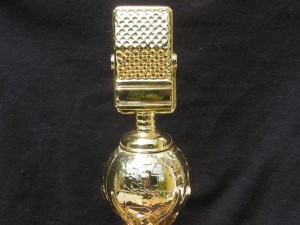 California State University, Northridge's acclaimed public radio station KCSN-FM (88.5) received two "Golden Mike" awards in Division B, for stations with six or fewer full-time employees in the news department, from the Radio and Television News Association (RTNA) of Southern California in January.
The awards were presented during a ceremony held Jan. 25 at the Universal Hilton. KCSN's news department won in the category of "Best Government and Political Reporting" for in-depth coverage of the "November Ballot Initiatives."
This was the work of two broadcast journalism department students. Devin Knight wrote, produced and reported for a story on "Proposition 30," which was ultimately approved by California voters to impose a tax on high income earners to generate revenue needed for public schools and universities. Malcolm Hoyle is a co-winner for his story on "Proposed Reforms to the Three Strikes Sentencing Law." He interviewed one of the authors of Proposition 36, the chair of Crime Victims United of California, and Mark Klass whose daughter, Polly, was murdered 20 years ago.
The second "Golden Mike" award was in the category of "Best Medical and Science Reporting." Broadcast journalism student Katie Oh researched the issue of "Stroke Rehabilitation," focusing on a specialized program at the Valley Presbyterian Hospital in Van Nuys.
The KCSN news department has now won a total of 63 "Golden Mikes" from the RTNA.