Event Cancelled: Leading Latino Journalist Enrique Acevedo to Speak at CSUN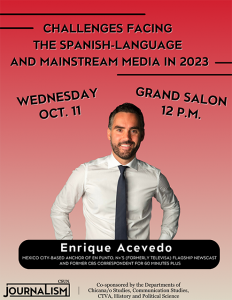 Unfortunately, this event has been cancelled. Mr. Acevedo has been sent on assignment overseas.
Enrique Acevedo, one of the leading Latino broadcasters and documentarians in the United States and Mexico, will speak to journalism students and others at California State University, Northridge at noon in CSUN's Grand Salon on Wednesday, Oct. 11.
Dubbed by one national publication as "the voice of Latinos," Acevedo is currently based in Mexico-City and anchors "En Punto," N+'s (formerly Televisa) flagship newscast. In 2020 he became the first Latino in history to work for the "60 Minutes" franchise, reporting for "60 Minutes+" on Paramount+. Acevedo also worked for nearly 10 years as the anchor of "Noticiero Univision Edicion Nocturna," the network's late-night newscast became one of the most watched Spanish-language broadcasts in the U.S.
The Mexican-born and educated journalist has had published work in the New York Times, Washington Post and is a frequent contributor to NPR's "Here and Now." He co-wrote and co-produced the documentary "30 Segundo" about young Latino voters and the 2016 presidential election. For more than 20 years, he has traveled the world covering events ranging from the fall of Afghanistan to Fidel Castro's funeral in Cuba and has interviewed world leaders including President Barack Obama, South African leader Desmond Tutu and U.N. Secretary General Kofi Annan.
Acevedo will talk about the challenges faced by Spanish-language and mainstream news media in 2023. The discussion is open to the public and is being hosted by CSUN's Departments of Journalism, Communication Studies, and Cinema and Television Arts, all housed in the Mike Curb College of Arts, Media, and Communication, as well as the Departments of Chicana and Chicano Studies, History and Political Science.
The Grand Salon is located in CSUN's University Student Union on the east side of the campus at 18111 Nordhoff St., Northridge. For more information, call the Department of Journalism at (818) 677-3135.