Lee Zeidman: From CSUN Promoter to Staples Center President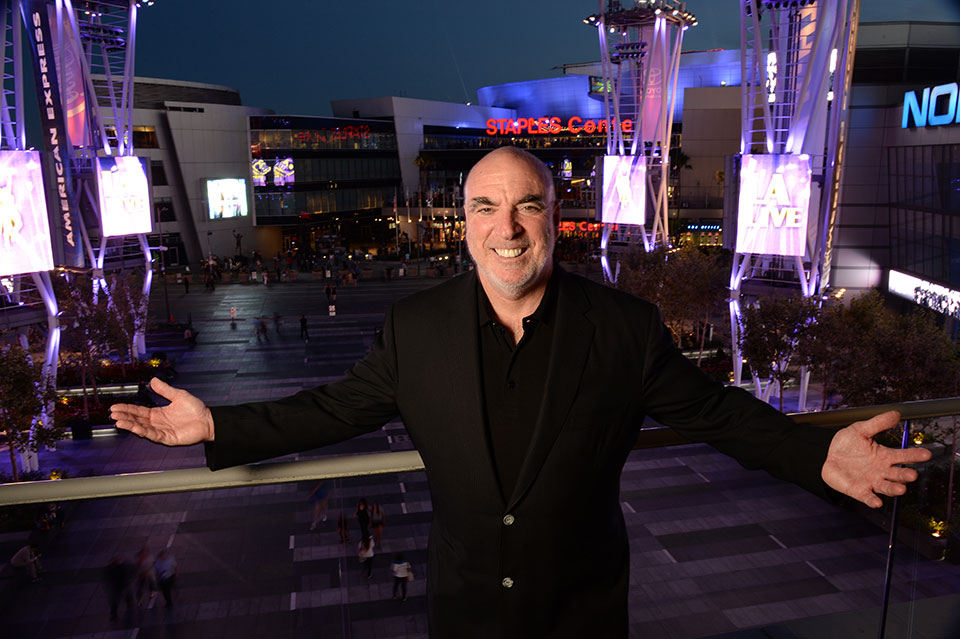 The Staples Center complex in downtown Los Angeles is impressive. If you were dropped into the middle of it, you'd be surrounded by 23 restaurants, a 14-theater movieplex, corporate office buildings, the 7,100-seat Nokia Theater, the Grammy Museum and enough parking to support those venues. Most important, you'd also be next to the Staples Center, the world-famous arena that houses both of the NBA's Los Angeles basketball franchises — the Lakers and Clippers — as well as the NHL-champion Kings and the WNBA Sparks.
And somewhere in or underneath one of those buildings, you'd find the Staples Center President, Lee Zeidman '78 (Experimental Psychology) '80 (Recreation), making sure all of this runs at full capacity.
"I oversee that all from an operations standpoint, from a booking standpoint, from a marketing standpoint and a sales standpoint," Zeidman said from his office, which overlooks the complex. It's a big job for someone who began his run to the Staples Center president's office while at California State University, Northridge, booking shows for the campus pub in the late '70s.
When Zeidman first arrived at CSUN, his plan was to become a marriage counselor, so he majored in psychology. But he graduated without the grades to get into grad school, so he tried a few jobs then came back to CSUN to recalibrate his career. He walked into the recreation and tourism management department and said he wanted to get into commercial recreation.
"They did a two-year program for me," Zeidman said. "Part of [it] was they put me into the area where the pool was back then, before they redid the whole student center. They had a leisure activities center there, where you could check out backpacks and camping gear. I did an internship there, and that wasn't what I really wanted to do. We had the pub on campus before it was renovated, and they asked me if I'd be interested in booking the entertainment there."
Zeidman jumped at the chance. He noted that back then, there wasn't much for students to do on campus once they were out of classes. He saw his new job as an opportunity to make his mark, and from 1978-81, he did just that — transforming a sleepy area in the Valley into one of the brightest spots in the city.
"It was probably the best bar and club in the Valley on Wednesday nights," he said, beaming. "We packed the place. Bands went in there and did three 45-minute sets, and it was phenomenal. We'd have lines that wrapped around the entire student center. From that Wednesday Night Live program grew Monday night football, Tuesday night comedy and Thursday night jazz programs. It was very successful."
Wildly successful. His only regret: not booking Motley Crue when their cassette demo hit his desk.
Zeidman graduated and became the first program director at CSUN's student center. He moved on to similar roles at larger schools — first UCLA, then UC Santa Barbara, where he ran the 6,000-seat event center.
"I love being on a college campus," he said. "I love the environment, the energy and I loved working with students. I always said that it's an environment that keeps you young."
That energy came in handy when he was passed over for a promotion to director of UCSB's university center. Devastated, he searched for jobs that would replicate that feeling he had on campus, but found only property management jobs that didn't fit the bill.
One day, on an interview for one of those positions, he noticed the company — Ogden Facility Management — also ran the New Orleans Superdome, Seattle Kingdome and Los Angeles Forum. He didn't think he was qualified for the job for which he was interviewing, but he told company officials that he'd love to get another interview if something opened up at one of the arenas. Eight weeks later, an Ogden manager called Zeidman and asked if he'd be interested in the position of director of operations for the Forum.
"That was my big break," he said. "I got that position, I was there for 10 years and I was the first person hired for the Staples Center when that became a reality."
Zeidman was the first person brought on to what would become a revitalization project that would change the history of downtown Los Angeles.
"I knew how important the Staples Center was and how successful it had to be because we were in the midst of revitalizing downtown," he said. "If this was successful — and it's been proven it has been with what we've done with L.A. Live — there would be more restaurants, more hotels, more conventions and more [transit] lines to the Convention Center.
"I came from a building that was only 330,000 square feet [at UCSB] to the Staples Center, which was just under a million square feet with 160 suites and multiple restaurants. So just getting it staffed up, getting it fitted with all the right equipment, the right systems and everything was a huge challenge back then."
Fifteen years later, it looks like the challenge was met, and then some. From the first event in 1999, a Bruce Springsteen concert, to the sporting events and family shows hosted by Staples Center year-round, Lee Zeidman has overseen them all. It's a long way from putting on shows at a CSUN pub, but he shows the same enthusiasm he did back then.
"I love what I do," he said, "doing exactly what I want when I want to do it and where I want to do it, and working with the great men and women I get to work with every day here. It's pretty much a dream come true. I'm a very lucky guy."