Matador A. Martinez Rides the Public Airwaves
"This morning marked the last broadcast of KPCC's the Madeleine Brand Show. Don't fret, your favorite Babe of NPR will still be heard weekday mornings on Southern California Public Radio — she'll just be bantering with a swarthy new co-host." — L.A. Weekly, 2012
Many students who attend California State University, Northridge face adversity or external pressures during their college years. A large percentage work long hours when they're not hitting the books. It's sort of baked into the ethos of being a Matador so much so that many employers cite toughness as a specific reason for hiring CSUN alumni.
In 2012, when A. Martinez '95 (Journalism) started a job co-hosting the already-established "Madeleine Brand Show" at KPCC — the Pasadena-based National Public Radio station — he faced the kind of obstacles he'd been used to as a student. Seemingly overnight, the man who had been the voice of the highly rated "DodgerTalk" radio show had become Public Enemy No. 1 to Los Angeles public radio listeners. The quote above from L.A. Weekly summed up the sentiments of the media and public about a "swarthy" jock who decided to crash their party.
"There was a lot of controversy when I was hired," Martinez said, during a recent break from one of his many recording sessions. "I'm glad that I went through it now — I'm not going to let anyone doubt me … I don't care how rough this thing is, I know I'm going to get through it — I know I'm going to figure it out."
That's what A. Martinez does — figure things out. Those who underestimated him because of his sports background didn't understand his nature. The boy who grew up dreaming of playing Major League Baseball always found a way to crash the party, often leaving the hosts wondering why they hadn't invited him in the first place.
Martinez's radio story begins in the San Fernando Valley, when he entered CSUN after junior college and realized that he would never become a big league player. Like many Matadors, he was drawn to the location and the history of CSUN within his family.
"It was a few miles from my mom's house," he said. "Everyone in my family had gone there. I had three aunts that graduated from CSUN. They all had been teachers. And that's where I got [CSUN] in my head a little bit, because I used to see them on campus when I was a kid."
By the time he arrived at CSUN, Martinez realized he wouldn't make it to the big leagues. So he majored in the one thing that ignited his passion almost as much as baseball did — journalism. CSUN happened to boast one of the nation's major journalism programs, and the university was a place where he could combine his two passions.
"I always wanted to be either a baseball player or a baseball beat writer," Martinez recalled. "I had grown up reading all these novels like Boys of Summer, about the '50s baseball culture of New York City — the Dodgers, the Giants and the Yankees. I read all those books, and it just seemed like such a fairytale kind of life that these sportswriters used to live. They traveled around, befriending ballplayers, befriending managers and then writing about them, so that's what I wanted to do."
Under then-journalism department head Cynthia Rawitch (whose son Josh was one of the Dodger officials Martinez met years later when starting with the team's radio program), Martinez developed his voice by working on the sports beat for the campus student newspaper, The Daily Sundial. He worked hard, generating a large portfolio.
The 1994 Northridge earthquake hit during Martinez's student years. The "disappointment" he felt working in the make-shift bungalows — and not the journalism building that birthed so many legendary writers — during the campus' reconstruction strengthened Martinez's resolve to land a professional opportunity, he said.
Pre-Internet, finding a job in journalism right out of school was a tough proposition. There was a lot of copying of work-sample "clips" and mailing blindly to editors, hoping to hear back from one of them. Martinez was on his way to send out a batch when his big break came.
"I had a huge crate of envelopes I was going to take to the post office, and I decided, just to be safe, I stopped at the journalism department office to see if there were any other job openings anywhere in the country," he said. "I got to the journalism office, and department assistant Vicki Morton was putting a piece of paper on the wall. I asked what that was, and she said, 'Oh, they just called right now. They need something called the board operator at XTRA Sports 690 in the Fallbrook Mall.' I said, 'Whoa.' I had no idea what a board operator was, but I thought, whatever that job is, I want it."
It turns out that the station was transmitting from the Fallbrook Mall to relay its signal from San Diego/Tijuana. Station management needed someone to make sure the signal made it past the Sepulveda Pass to the San Fernando Valley — and open the door for radio personality Steve Mason.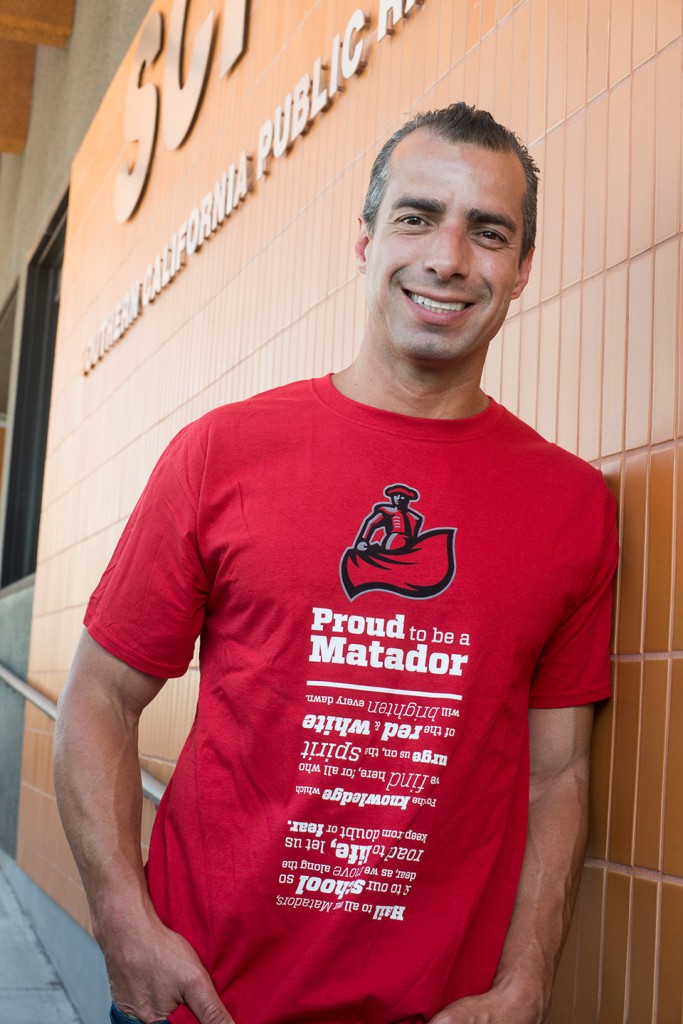 Cue Martinez's big break.
Before long, Martinez became more than a board operator, filling in as a reoccurring character on Mason's morning sports show. The veteran broadcaster was responsible for creating the rookie's pseudonym, "A" (his given name is Jorge).
"Mason couldn't remember my name so he'd say, 'Ayy Martinez, come here,' 'Ayy Martinez, coffee,'" Martinez said. "That became my gag name on the show, and that became what they got to know me as."
The role grew bigger, and Martinez grew his brand. After some shifting around with 690 and a stint managing Mason's movie theater chain, Martinez was ready to move on. Unfortunately, no one was looking for a sports radio reporter in Los Angeles. That was until Xtra Sports 1150 was born a few days after he quit the movie theater business in 1995.
"They gave me the weekend update slot, and within a few weeks, I was the Monday-evening update guy. Then, not even a month later, I was the afternoon update guy," Martinez said. "I mean, that was lightning fast, and I just happened to be there."
This would help him out two years later, in 1997, when the station scored the rights to the Dodgers' baseball broadcasts. Martinez was offered the gig and quickly accepted.
"My whole dream was coming true," Martinez said, "but I wasn't a sportswriter, I was the radio beat host and reporter for Xtra Sports 1150. I was embedded with the team, traveling with them on the plane, in the bus, at the hotel. Everywhere they went, I went. And I was doing my show from the dugout every night, and then from the radio booth for the postgame show. Anytime the beat writers met with the manager, I'd be there with them, another one of the beat writers."
After 10 years of working on the Dodger beat, Martinez shifted to ESPN Radio Los Angeles, to serve as Los Angeles Lakers pregame and postgame host.
At the same time Martinez was moving to ESPN Radio, there was an identity crisis brewing on the other side of the radio landscape — public radio was seeing its numbers drop nationally, and its leadership was searching for a way to staunch the bleeding. In a city like Los Angeles, where almost half of its residents are of Latina/o heritage, that meant speaking to that audience.
In December 2011, shortly after KPCC received a $1.8-million dollar grant from the Corporation for Public Broadcasting, station management posted an ad seeking a co-host for a national news magazine. They wanted a Latino host, in an attempt to diversify their reporter ranks and attract a different audience. After reaching out to his agent, KPCC tapped Martinez. After deliberating, he decided it was worth the risk to jump into an arena he'd never thought about — or even listened to.
"How often does someone like me in sports — who's done nothing but sports jobs for 12 years — how often does something like that come around?" Martinez said he asked himself.
From the moment he joined KPCC, however, dissenting opinions rained down. But for then-Southern California Public Radio Vice President of Content Russ Stanton, it was a sign the station had done something right.
"He doesn't sound like public radio, which was by design," Stanton told L.A. Weekly. "We feel very strongly that the population — and therefore the audience — of Southern California has been changing pretty dramatically and pretty rapidly over the past decade or so."
The issue presented itself, however: Where to put him? He was named co-host of the established "Madeline Brand Show," and it was rebranded "Martinez and Brand." That didn't sit well with the show's base.
Much of the vitriol was directed toward Martinez's sports background, but there was still plenty of venom spit by supporters of Madeline Brand, the host of the show Martinez joined. For him, the 2012 L.A. Weekly cover article that covered the changes to the show crystalized the sentiments and, he said, took shots at him ("I didn't know what swarthy meant — I had to look it up!"). It was something that didn't sit well with him either.
"There was a paragraph in that article where they say that Madeline Brand got her bachelor's degree at Berkeley and her master's from [Columbia]," he said. "A. Martinez played baseball at City College before getting a B.A. at CSUN. And I was like, 'Well, why are you doing that?' The writer wasn't trying to be informative about me as much as she was trying to paint the difference between what she perceived as my lack of education to Madeline's wealth of education. And that kind of was the nail — at least for me to say, "I'm going to speak out no matter what, and I don't give a damn.
"I was such a novice at public radio. I had no idea what this was or what was expected of me. I didn't realize the significance of or the lack of diversity in public radio. I didn't know there was a lack of diversity in public radio until I got there. And then, going through all the [online comments saying], 'I don't want a Latino shoved down my throat,' or 'He's not Latino enough.' There were so many stupid things that I read on these message boards. And now, we're about to approach year four of this…"
Martinez trailed off before talking about his new co-host, Alex Cohen. After almost a month after Martinez's hire, Brand decided to leave the show. Cohen was brought on, and the show was renamed "Take Two." The station management couldn't have been happier.
"It's the second-most listened-to show in LA behind 'Morning Edition,' the national NPR morning show," NPR CEO Jarl Mohn told TheRoot.com. "At KPCC, 40 percent of the audience is of color [and] they said, 'It wasn't for me before, and now it is.' Yet when I listen, as an old, white guy, I listen to it, and I say — It's for me."
"A few months ago, we did a live show for 'Take Two's' two-year anniversary," Martinez said. "That was a really nice moment because it was a live show in front of 150 'Take Two' fans. It was, 'Hey, we persevered,' because our president, Bill Davis, went on the air — that's how crazy it was — to defend [my] hire.
"He told the audience back then, 'Look, you got to give this show two years.' He said that back then, in 2012. He said, 'I hired him knowing that he's going to take about two years to see if this thing has any legs to it.' To have that anniversary show, when the ratings were good and the show was strong, that was a nice moment to know that we surpassed everyone's expectations."
Rising to the occasion when opportunity calls and going beyond what could be imagined is just another testament to how A. Martinez can take big pitches and hit them out of the park.