Natalia Reagan Uses Humor, CSUN Education on SpikeTV's '10 Million Dollar Bigfoot Bounty'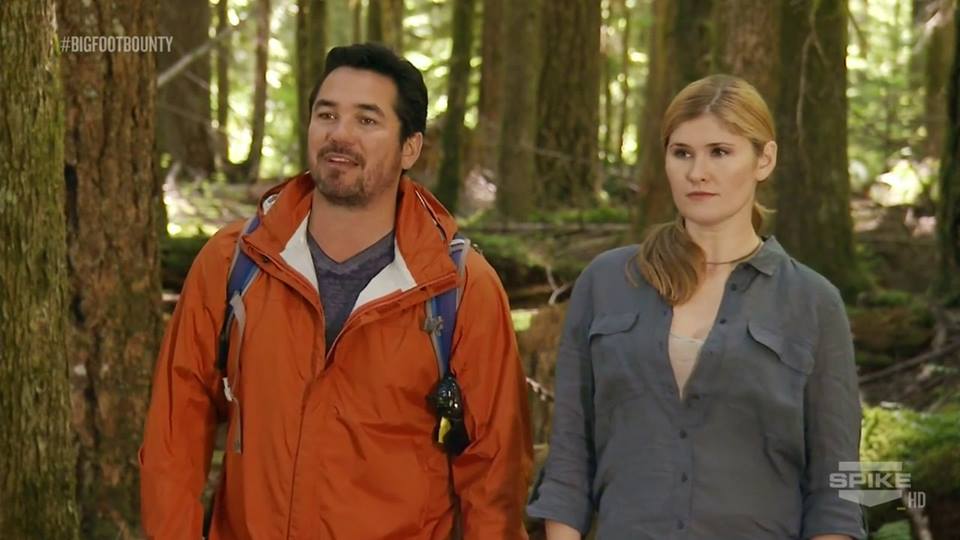 Natalia Reagan '08 (Anthropology), M.A. '11 (Anthropology) is all about the primates. The California State University, Northridge alumna has been gaga for gorillas, monkeys and all other simians since she was a kid growing up in the San Fernando Valley. Now, as the field expert on the SpikeTV show "10 Million Dollar Bigfoot Bounty," she and co-host Dean Cain are on the hunt for the mythical Bigfoot, along with a cast of characters that can only be corralled by someone with Reagan's humor and rapid-fire wit.
Born in Northridge, the affable Reagan grew up in a Matador household. Her mom, Janet Reagan, is a professor in CSUN's Department of Health Sciences. Natalia remembers growing up on campus, running around and exploring in the same way she would later do on her anthropology expeditions.
"I essentially grew up on CSUN's campus," said Reagan. "[My mom] taught up until I was born and I was two weeks late, so I was nearly born there too! I remember playing in the old student union, eating ice cream cones and running around the old fire pit. My little brother and I learned how to swim in the CSUN pool."
However, her world grew beyond the 91330 ZIP code. Her father worked in the film industry, and she was exposed to it from an early age. As much as she loved the glitz and glamour of Tinseltown (and meeting actors such as Michael J. Fox), her love of animals—especially primates—put her on a course to study them. The entertainment world was never far away, however, and she eventually combined her dreams with her first love.
"Heck, as a kid I had recurring 'King Kong' nightmares, so it's no surprise I ended up studying primates," she remembered. "I wanted to be a zoologist, but as I got older I no longer excelled in math and thought I couldn't go into science—so I switched to theater. But I took an anthropology class my first year of college and fell in love with it!"
Like many CSUN students, Reagan began her studies at Santa Monica College, and she transferred to CSUN to continue her anthropology work. She was enamored with the idea of human evolution and learning about primates that lived long ago. She enrolled at Northridge in 2006 and earned her B.A. in 2008. She headed to Costa Rica soon after to attend primate field school and knew that she wanted to continue studying in the field. That's when she decided to return to CSUN to get her M.A.
"I was so fortunate to have the best advisors academia has to offer," Reagan said. "Wendy Birky was my undergrad adviser, and Christina Campbell was my graduate adviser. Both are incredible scientists who taught me so much. My thesis committee included anthropologist and folklorist Sabina Magliocco and paleoanthropologist Helene Rougier. Having these fiercely intelligent female advisers helped me realize that it's time to break through the glass ceiling and continue to show the world that women can do and be anything—including ground-breaking scientists."
It's this determination (in addition to her sense of humor) that made Reagan one of the most sought-after experts on a variety of topics, from primates to the human anatomy. Like many people in the spotlight today, she harnessed the power of the Internet to spread her gospel about science through online videos.
"In 2010, I began pitching science comedy show ideas," Reagan noted. "A friend said to me, 'Why don't you just shoot your own videos?' So I wrote and shot 'The Story of Boobs: The Breast Tale Ever Told.' Lucky for me, a producer from 'The Today Show' saw it and had me on the show to discuss the obsession with breasts in America, with Ann Curry—it was surreal!"
As her profile rose, Reagan caught the attention of the producers of SpikeTV's "10 Million Dollar Bigfoot Bounty," where she now stars as co-host and science expert, with Dean Cain and Todd Disotell. With her background in anthropology, comedy and performance, she was a natural to guide the nine teams comprised of lifelong Bigfoot seekers and big-game hunters looking for Bigfoot in the Pacific Northwest. Why? For scientific glory—and the promise of taking home one of the largest cash prizes in TV history: $10 million.
"It was great to watch the contestants learn to talk like scientists over the course of the show," She said. "I would joke with them, 'Hey, if you don't find Bigfoot, you could always become a conservation biologist!'"
Reagan noted that the contestants have done groundbreaking work with environmental DNA, including blood and meal analysis. Additionally, "Dr. Todd" Disotell has created a mobile DNA lab, where the participants do work she is proud to promote: "This mobile lab will surely change the way field primatology or biology is done in the future!"
She and Disotell worked so well together that they produced a Web series, "Talking S—t With Dr. Todd and Natalia." They cover science topics related to looking for Bigfoot, from analyzing DNA found in stool, to primate locomotion. It's just one of Reagan's many other projects, including launching BOAS Network (www.boasnetwork.com), which she hopes will bring anthropology to the mainstream with videos, blogs and trivia. She also stars in a Web series, "New Age Girls," and continues to produce hilarious videos to show the world that a little science in your life is a good thing.