Senior Film Project Wins Recent CSUN Grad Top Honors from the DGA
---
Dilek Ince knew in middle school that she wanted to be a storyteller when she grew up. By high school, she knew she wanted to tell her stories through film. Once she graduated, Ince packed a solitary suitcase, boarded a plane in her native Turkey and headed to Los Angeles – the land where movies are made.
Ince, who graduated from California State University, Northridge in August with a bachelor's degree in film, took a huge step forward today in cementing her career as a filmmaker. The Directors Guild of America Student Film Awards has given Ince's senior film project, "Amal," its Jury Award in the category of Outstanding Women Student Filmmakers.
"I am so happy, and stunned that I am receiving this award," Ince said. "It's an honor to receive such an award from the DGA. It is great to be recognized as a female filmmaker.
"I come from a family of lawyers, and they thought I was crazy to come here on my own, not knowing anyone, to pursue my dream to become a filmmaker," she continued. "Maybe this will help them understand that there is a reason I am in Los Angeles, and that my dreams aren't so crazy after all."
Cinema and television arts professor Nate Thomas, head of CSUN's film program, said Ince's award was well deserved.
"I always have my eye on the students when they are making their senior film projects," Thomas said. "We have some really good students, and you know that they are going to make it in this industry. But every once in a while a student will stand out. Dilek is one of those students. You just know that not only is she going to succeed, but she is going to change the world with her art."
"Amal," which was written and directed by Ince, tells the story of an American volunteer doctor who witnesses a tragic event that leaves a 7-year-old Syrian girl without a family. The doctor adopts the girl and hopes to bring her home to the United States, but problems arise when a travel ban is placed on Syrians just as the pair arrive in America.
Ince found inspiration for her film in news reports about war.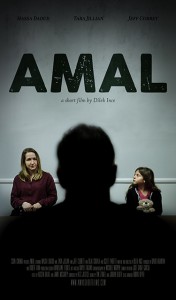 "Every time I watch the news, my eyes are always drawn to the kids," she said. "I wanted to show how war affects the children. There are so many children in the world who have lost their families, their homes, everything, including their childhood. They have to become adults at a very young age. They have no choice. No one talks about that. I feel the children are forgotten."
Ince said among the first things she did when she arrived in Los Angeles 10 years ago was to learn English.
"My dream was to become a director who writes her own scripts, and to do that I had to learn the language because I was going to be the best screenwriter I could be," she said.
Ince learned English, took extension classes at UCLA, enrolled in classes at Santa Monica College and worked on screenplays and other small film projects on the side. When she was ready to formally study filmmaking, she applied to and was accepted into several universities, including a couple of University of California campuses and New York University.
"But I had heard about CSUN," she said. "I took a tour of CSUN and its film program. I wanted to study in the best film program, and that was Cal State Northridge."
She transferred to CSUN as an international student in 2016.
Only five student projects are selected each year to take part in CSUN's annual Senior Film Showcase. Ince said she was determined to be among those chosen. Students who want to have a project considered have to take a screenwriting class. The instructor warned the students to avoid writing projects that involved subjects that might prove difficult to film, such as hospitals, airports and children.
"My project had all three," she said, laughing. "I had to decide if I wanted to follow the conventions, or tell the story I wanted to tell. I chose to tell my story."
Ince, who currently works as a technical director for a film company, said winning the DGA award is an affirmation that she is doing what she was meant to do. She intends to continue to pursue her dreams of writing and directing her own movies.
She added that the experience of coming to the United States by herself as an international student who, at first, did not know English was a challenge, but has taught her that she has the strength to succeed regardless of the obstacles. She said it has also provided her with a perspective that influences how she sees the world as a filmmaker.
"When you live in one country, you think that's the way the world is," she said. "Then you go to another country or a place like Los Angeles, which has so many different people with different languages and experiences, and you realize that the world is so much bigger and more interesting. I learn something new every day, and as I learn more, I keep growing as an artist."