Southern California's KCSN and KSBR Announce The New 88.5 FM
Largest Coverage Area Expansion In Public Radio History
Sheryl Crow To Perform Benefit Concert at The Fonda Theatre Oct. 23

With great pride and excitement officials at California State University, Northridge and Saddleback College in Mission Viejo have announced a record-breaking shared programming agreement between their respective public radio licensees, KCSN-FM and KSBR-FM.
Both stations have been operating on the 88.5 FM frequencies in Southern California. By working together in this unique expansion partnership, KSBR and KCSN will improve their combined signal reach through Los Angeles and Orange Counties and parts of Ventura County, providing a single station of programming to a potential audience of 11.5 million listeners, a huge boost from the two stations' previous combined reach of 2 million.
"This is a significant event in public radio broadcasting," said CSUN President Dianne F. Harrison. "This partnership is being hailed by broadcast engineering experts as providing the largest increase in service area in public radio history and will be one of the largest non-commercial coverage areas in the country. Beyond the expansion in coverage, more importantly, this is an expansion of our service to the region, our students and the arts."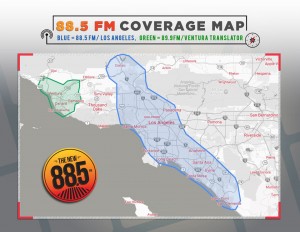 Beginning Tuesday, Sept. 12, the stations will operate under the moniker "The New 88.5 FM" and be heard from Santa Clarita to San Clemente. Nic Harcourt will flip the switch on the expanded coverage area at 10 a.m. on Sept. 12 during his Morning Music Mix program. Broadcasting will originate from both campuses' studios in Northridge and Mission Viejo, as well as a remote studio at The Village at Westfield Topanga. The station will stream online at www.885fm.org
Debra Fitzsimons, interim Chancellor of the South Orange County Community College District (SOCCCD), lauded the collaboration between the two institutions.
"We have always looked for opportunities to better serve our community, the region and students," Fitzsimons said. "Working together, we are able to increase the reach of 88.5 FM while supporting our students and artists throughout Southern California and beyond. It's a real win-win for both CSUN and Saddleback College."
The New 88.5 FM celebrates this expansion with a special benefit concert from multi-Grammy winner Sheryl Crow at the Fonda Theatre in Los Angeles on Oct. 23. Crow, a longtime listener and supporter of KCSN, was delighted to be asked to help the station with this benefit concert, telling Billboard:
"There's something magical on the dial at 88.5 FM. The station's passionate dedication to supporting artists, providing them a home on the airwaves and introducing listeners to the best of new local talent, is unmatched. It's wonderful that listeners all over Southern California will now have a chance to hear what they're doing." Ticket info below.
Robert Gunsalus, CSUN's vice president for University Advancement, who oversees KCSN's operations, said the partnership greatly expands the positive impact of CSUN and Saddleback College.
"Los Angeles and Orange Counties are vibrant communities that are the home of so many creative artists, many who have been supported by these great institutions," Gunsalus said. "The station has already gained the respect and support of some of music's most influential artists. This partnership and the expanded coverage area will only grow its impact. Our commitment to supporting new, local and legendary artists serves not only the region but the needs of the music community in a powerful way."
Sky Daniels, General Manager and Program Director of KCSN, acknowledged the current and past leadership of Saddleback College and KSBR for their vision in developing this partnership, including Saddleback College Past President Dr. Tod Burnett, former SOCCCD Vice Chancellor CM Brahmbhatt, former KSBR General Manager Terry Wedel and current interim chancellor SOCCCD Debra Fitzsimons. Former Dean of Fine Arts and Media Technology Bart McHenry played an active role and currently serves on the station's oversight board.
"I want to thank both institutions for recognizing how the programming serves the needs of performing musicians in an era where they find it increasingly difficult to maintain careers," Daniels added. "88.5 FM's mission is to serve musicians. This partnership will provide Southern California with a much-needed influential artistic development platform, as well as connecting students from both institutions to the entertainment industry, radio and great music."
KCSN has received enormous support from the music community over the past few years, with luminaries such as Tom Petty & The Heartbreakers, Jackson Browne, Sting, Bonnie Raitt, Stephen Stills, Lucinda Williams, Conor Oberst, Ryan Adams and Sarah McLachlan joining them for special performances and benefit shows in support of their mission to provide quality music programming to the Los Angeles area. The station is home to on-air hosts Harcourt, Jim Nelson, Harry Shearer, Robert Hilburn, Jed The Fish, Julie Slater, Garrison West and Kevin Bronson. It also broadcasts popular syndicated music shows such as World Cafe, Saturday With The Beatles, The Dylan Hour and Acoustic Cafe. Daniels was recently named one of the Top Ten "Most Influential" rock radio program directors in the U.S. by Billboard Magazine.
KSBR-FM Director of Broadcast Operations Jim Rondeau said The New 88.5 FM is unlike any other station in Southern California.
"Southern California deserves better radio," Rondeau said. "The triple-A format (Adult Album Alternative) is probably the hardest to describe to new listeners but delivers a standout listening experience. Our mix of legendary, local and new artists is one that can carry you from your commute through your work day."
Rondeau and Daniels will serve as co-general managers of the new station. Daniels will be the Program Director. KSBR's jazz programming will be carried on the new station's HD2 channel, and KCSN's Latin Alternative programming will be carried on HD3.
Tickets for Sheryl Crow's show benefiting The New 88.5FM at the Fonda Theatre in Hollywood on October 23rd can be purchased here. On sale is Friday 9/8 at 10 a.m. at http://www.fondatheatre.com/events/detail/339193. This show is in association with STOMP Out Bullying™ – the leading national anti-bullying and cyberbullying organization for kids and teens in the U.S. It is dedicated to changing the culture for all students, and works to reduce and prevent bullying, cyberbullying, sexting and other digital abuse, educates against homophobia, LGBTQ discrimination, racism and hatred, and deters violence in schools, online and in communities across the country.  
The New 88.5 FM offers a 24-hour, commercial-free blend of rock, alternative, soul, blues and Americana. It features a wide range of artists such as U2, Bruce Springsteen, Jack White, Arcade Fire, Tom Petty & The Heartbreakers, Alabama Shakes, The War On Drugs, The National, Sheryl Crow, Bob Marley, and David Bowie. The station's programming will also be available on KCSN's HD1 channel and online at www.885FM.org
Follow The New 88.5FM at @885FMsocal