Spotlight to Shine on Talents of CSUN Dancers, Choreographers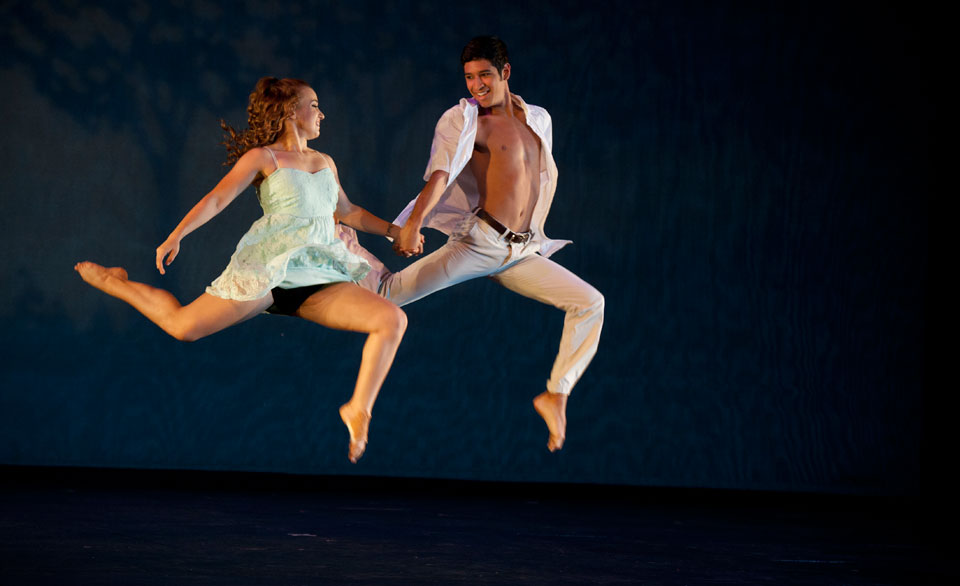 "Kinesis: Emerging Choreography" shines the spotlight on CSUN's dancers and choreographers. This year's performances are on April 27 and 28. Photo courtesy of Paula Thomson
The spotlight will be turned onto the talents and visions of California State University, Northridge's student dancers and choreographers later this month at the university's annual dance showcase.
"Kinesis: Emerging Choreography" is scheduled to take place at 8 p.m. on Wednesday, April 27, and at 2 and 8 p.m. on Thursday, April 28, in the Plaza Del Sol Performance Hall, located in the University Student Union on the east side of the campus at 18111 Nordhoff St. in Northridge.
The showcase is designed to demonstrate the diverse choreographic vision, passionate dancing and powerful performances created by students in the dance program in CSUN's Department of Kinesiology.
"Kinesis is the combining of form and the sensation of movement," said kinesiology professor Paula Thomson, head of CSUN's dance program. "Dance at its best does just that — both dancer and audience viscerally experience movement and sense the coherent form inherent in good choreography."
In addition to the talents of CSUN student dancers and choreographers, the showcase also will feature performances by several well-known professional dancers, including Victoria Alvarez from the award-winning dance crew Academy of Villains, and Karissa Petersen, a member of the Los Angeles Clippers' dance team. Other artists include Autumn Hooks and Emeka Nwoye.
The evening's choreography will feature a variety of dance styles, from urban street to tap and contemporary. Performers from CSUN's Department of Music also will be on hand to provide live music throughout the concert.
Tickets for the showcase are $15 for students and seniors and $20 for adults at the Associated Students' Ticket Office, located in the University Student Union, or by calling (818) 677-2488.
For more information about the showcase, contact Thomson at paula.thomson@csun.edu.