Symposium to Celebrate CSUN's Elevation & Research of Hip-Hop Culture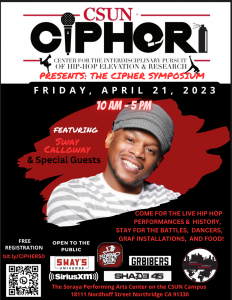 California State University, Northridge is marking the 50th anniversary of hip-hop with a symposium hosted by CSUN's Center for the Interdisciplinary Pursuit of Hip-Hop Elevation & Research (C.I.P.H.E.R.) to feature food, art, special guests and musical performances. 
The event is free and open to the public on Friday, April 21, from 10 a.m. to 5 p.m. at the university's Younes and Soraya Nazarian Center for the Performing Arts (The Soraya), located at 18111 Nordhoff St. C.I.P.H.E.R's inaugural symposium will include live hip-hop and DJ performances, dancers, graffiti/art installations, food trucks and panel discussions of hip-hop history. 
"Hip-hop differs from other genres in its emotional connections and its reflection of human struggles and triumphs," said Yan Searcy, dean of the College of Social and Behavioral Sciences. "It's often an unfiltered expression of the human condition."
The symposium is serving as the center's inaugural event to promote hip-hop as an educational field of study, but also simply to celebrate the genre with the campus and the community, Searcy said.
C.I.P.H.E.R was created as an innovative and collaborative community academic center that focused on the interdisciplinary examination of hip-hop by hosting panels, workshops, conferences, discussions, exhibitions, and a research journal. 
Helping plan the event was "Wake Up Show" radio co-host Skyy Hook, a visiting professor in CSUN's Department of Anthropology and leader of one of the panel discussions. Searcy said Hook will tap into her extensive knowledge of the world of hip-hop to examine the golden era of hip-hop and analyze the genre as an artistic form. 
The symposium will also feature a discussion with journalist, radio personality, executive producer and former rapper, Sway Calloway, known as Sway. 
"One of the things I enjoy about being at a university is the ability to bring a critical level of analysis to almost any subject," said Searcy. "I want to decrease the distance between the university and the community. I want to signal to young people that you can study this in college, and show them you can have a surprising experience at a university guiding your mind through your passions." 
Parking is $9.50 per vehicle via Information Booth 2, located at Prairie Street and Darby Avenue. Communication and accommodation services are available upon request, and must be submitted at least five working days in advance at csbsevents@csun.edu.