The Wonders 'Under the Sea' and in a Chocolate Factory: This Summer at CSUN's Teenage Drama Workshop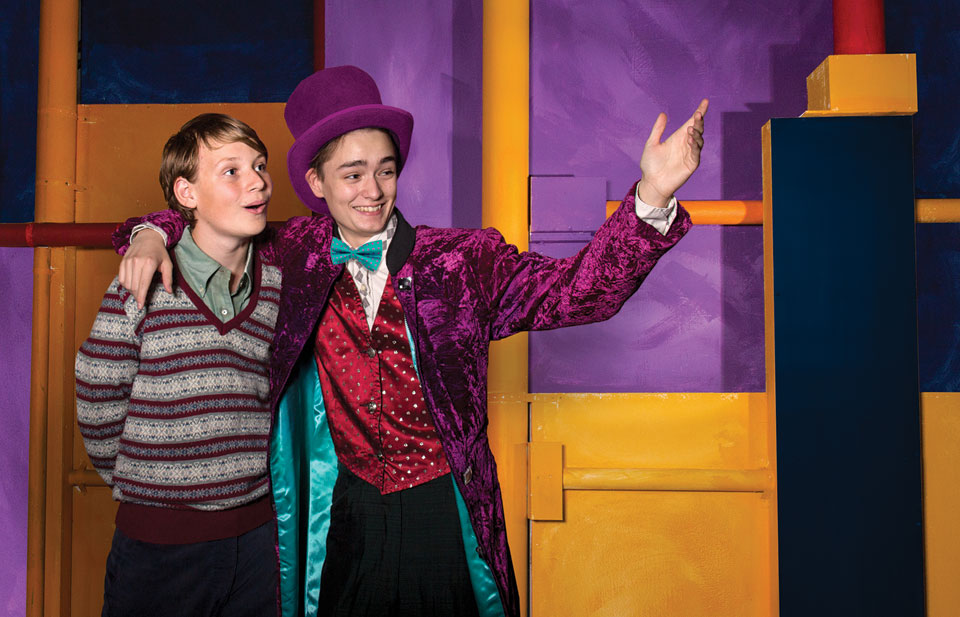 From right, Henry Parker-Elder, as Charlie Bucket, and Will Riddle, as Willy Wonka, rehearse a scene from TADW's "Charlie and the Chocolate Factory," Photo by Michael Smith, courtesy of Teenage Drama Workshop.
Looking for a "golden ticket" for an entertaining summer family treat? California State University, Northridge's Teenage Drama Workshop (TADW) is offering a journey "under the sea" with Ariel, Flounder and Sebastian, or a special tour of Willy Wonka's chocolate factory.
The acclaimed summer youth theater program is presenting "Charlie and the Chocolate Factory," adapted from Roald Dahl's children's classic, from July 10-25, and "Disney's The Little Mermaid Jr.," based on the Hans Christian Anderson story and Disney film, from July 15-24, at CSUN.
"Each summer for the last 58 years, the Teenage Drama Workshop has presented highly entertaining shows that, in many cases, introduce the art of live theater to young audiences," said CSUN theater professor Doug Kaback, TADW's executive director. "Our productions feature the creative work of professional directors and scenic, costume and lighting designers, but always keep the focus on our emerging teen artists as they shine on stage and behind the scenes."
TADW started out as an activity for teens, to call attention to the cultural resources available at what was then San Fernando Valley State College. Over the years, the workshop has grown into a nationally acclaimed drama program.
One of the nation's oldest such programs, TADW immerses the teenagers — this year there are about 80 students in grades seven to 12 — in the day-to-day reality of a professional theatrical troupe, from designing lighting, costumes and sets to learning lines and choreography during an intense six weeks, which started June 15.
In the mornings, the teenagers attend classes in acting, voice and dance. They can choose electives in improvisation, musical theater, playwriting or the technical aspects of theater production. The afternoons are spent in rehearsal, building sets or putting together costumes and props.
"Charlie and the Chocolate Factory" audiences will meet "the most amazing, the most fantastic, the most extraordinary chocolate maker the world has ever seen!" A golden ticket awaits Charlie Bucket and others for a special factory tour by Willy Wonka and the Oompa-Loompas, as Dahl's classic story is brought to life. The play is directed by Ronnie Sperling, with Chris Halsted.
Shipwrecks, a sea witch and silly sea gulls cannot stop true love in "Disney's The Little Mermaid Jr." Directed by Ray Saar, the musical invites audiences to journey "under the sea" with Ariel, Flounder and Sebastian the Crab.
There will be 10 performances of each show, with one performance each set aside as "sensory friendly" to make the theater experience accessible to children and adults on the autism spectrum or people with special needs. The sensory-friendly performances are scheduled to take place at 2 p.m. on July 11 for "Charlie and the Chocolate Factory" and at 11 a.m. on July 18 for "Disney's The Little Mermaid Jr."
To make those shows sensory friendly, subtle adjustments will be made, including just a slight dimming of the lights and a reduction of jarring sounds or strobe lights focused on the audience. There will be a pre-performance introduction of the characters and synopsis of what will be happening on stage. In the lobby, there will be quiet areas and an activity area for those who need a break during the performance.
"There are families who have never before felt they could take their children to a live theater performance," Kaback said. "We want them to feel welcome here at CSUN. We have made as many accommodations as we can to ensure that these performances are not overwhelming, and to take into account their children's needs.
"This is our third year offering sensory-friendly performances, and each year the response has been overwhelmingly positive from the community."
In addition to the two plays, TADW also will present its annual "10-Minute Play Festival," where student playwrights explore the dreams and challenges of their lives in original, short plays. Students in TADW's playwriting and improvisation electives collaborate to bring an idea from "age to stage" in six weeks.
For more information about TADW or any of the performances, call (818) 677-5811, email tadw@csun.edu or visit the website www.csun.edu/tadw.
Performances of "Charlie and the Chocolate Factory" are scheduled for 7 p.m. on July 10, 16 and 18; 11 a.m. on July 15, 17, 22, 23, 24 and 25; and 2 p.m. on July 11 in CSUN's Little Theatre in Nordhoff Hall. Nordhoff Hall is located at the southwest corner of the campus near Etiwanda Avenue and Nordhoff Street in Northridge.
Performances of "Disney's The Little Mermaid Jr." are scheduled for 7 p.m. on July 15, 16, 17, 18 and 22; and 11 a.m. on July 17, 18, 22, 23 and 25 in CSUN's Campus Theatre, also in Nordhoff Hall.
The "10-Minute Play Festival" is scheduled to take place at 7 p.m. on July 23 and 24 in the Little Theatre.
Tickets are $14 for adults and $10 for children, seniors and groups of 10 or more. Tickets can be purchased through the A.S. Ticket Office on campus or by telephone at (818) 677-2488.