Valley Performing Arts Center's Executive Director Looks Toward the Center's Future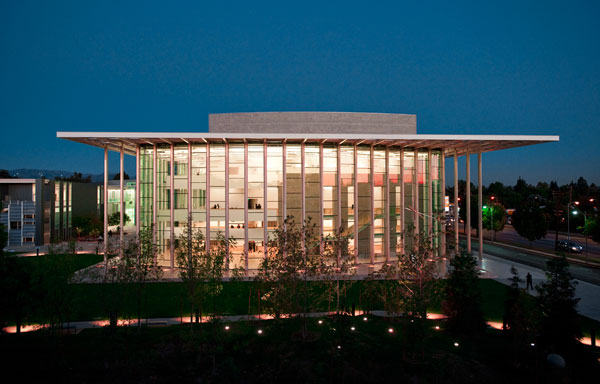 The Valley Performing Arts Center. Photo by Lee Choo.
As the 2014-2015 season for the Valley Performing Arts Center at California State University, Northridge gets under way, the center's executive director is looking toward the future.
Thor Steingraber, who came to CSUN from The Music Center in downtown Los Angeles, is looking beyond this season to a time when the students, faculty and staff at the university and residents in the surrounding community see the Valley Performing Arts Center as theirs — the first place they turn to when looking for entertainment and a place that engenders a sense of pride every time they pass by.
"I want them to see this as a place that serves them and belongs to them," Steingraber said. "I am a public servant whose job is to serve the broadest and most representative audience possible."
Planning and bookings for the 2014-2015 season were already underway when Steingraber joined the Valley Performing Arts Center's staff in March. The season offers an eclectic mix of more than 46 acts from 15 countries that present a wide range of entertainment — from Latin and jazz to theatre, dance, classical and pop culture performances — for the whole family. Featured performers include Vanessa Williams, Sinbad, Yo-Yo Ma, the Martha Graham Dance Company, Angelique Kidjo with special guest Red Baraat, Jane Monheit, The Second City 55th Anniversary Tour, Lee Ann Womack, the London Philharmonic Orchestra with conductor Vladmir Jurowski and the PBS children's show "Dinosaur Train Live!"
Steingraber spent the summer meeting with students, faculty and staff at CSUN and members of the community to ensure that people knew the Valley Performing Arts Center was there to serve them.
"I look at our audience in concentric circles, starting most importantly with the one on campus, then moving wider into the nearby community, then the whole San Fernando Valley and then all of Los Angeles," he said. "I need to serve all of those communities simultaneously, starting with the one closest to home."
He said all directors of performing arts venues are hoping to entice people to visit their facility at least once so the audience has an opportunity to "understand" it.
"Sometimes, the biggest challenge is persuading people to visit a venue for the first time, especially if it's new," he said. "In the case of the Valley Performing Arts Center, there are so many great reasons to return — it's an extraordinary venue. But the audiences also value their entire experience, from parking to eating and drinking."
Once people are in the door, Steingraber said his next job is to persuade them to return.
"From the first day I walked into the Valley Performing Arts Center, I began working on the 2015-2016 season, as well as other long-term programming ideas," he said. "On one hand, it is easy to continue booking the same artists and presenting artists who happen to be passing through town. However, my intention is to conceive of programs and groups of programs in a way that they appeal to broader audiences and are related to one another so that there is common thread that runs through the season.
"For example," he continued, "I am looking at our jazz presentations for the 2015-2016 season, and so I am thinking about jazz musicians who can curate a series of concerts that have a common theme or pay tribute to a series of legacy jazz artists who are interrelated. This requires producing even more than presenting these programs."
Steingraber added that he is working hard to establish a substantive relationship with important Los Angeles-based artists and arts organizations.
"It's not always necessary to import an artist when an equivalent artist lives right down the street," he said, adding that the center will present a wide range of entertainment options. "I think, sometimes, we try too hard to make a distinction between arts and entertainment. In my mind there is no line and I can embrace both equally."
One of Steingraber's goals is to build a multigenerational audience, and he acknowledges that he has an advantage over other performing arts center directors with the approximately 40,000 students who attend CSUN.
"The extent to which I do or do not reach them is my responsibility," he said. "What I know is that the experience itself is important to younger audiences. It's not just about who is appearing on stage, but the entire experience. That is something I am looking at very carefully. I also know that I cannot make assumptions about who our students want to see on stage. I have to engage them in that dialogue."
Steingraber said he was looking forward to those conversations and others with people on campus and in the community.
"I want people to realize that we really are here to serve them," he said.
Catch a glimpse at the Valley Performing Arts Center's 2014-2015 season: