Boxer Mayweather Comes To CSUN For Basketball Charity Event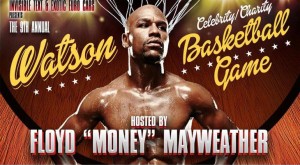 The star power will be out in full force on Sunday, Dec. 15, when Floyd "Money" Mayweather, one of boxing's all-time greats, comes to California State University, Northridge's Matadome to host the Ninth Annual Watson Celebrity Basketball Game.
This is the first time it's being held on the CSUN campus. The event raises money to help children in need across Los Angeles County. Thousands of children have benefited from the generosity of those involved in the tournament since it started in 2005.
Past participants have included some of the biggest names in sports, such as NBA players Kevin Durant, Russell Westbrook, and James Harden, major league baseball players Matt Kemp and Ryan Braun and actors Terry Crews and Columbus Short.
"It's great to give back," said Mayweather. "The Watson family has always been good to me. If it's for a great cause, I am here to support it."
Tickets are on sale at the Associated Students' Ticket Office on the CSUN campus.
For more: The 9th Annual Watson Celebrity Basketball Game Hosted by Floyd "Money" Mayweather Heads to The Matadome (GoMatadors.com)