CSUN Athletics Launches MataClub Seating Program

There's nothing like being inside an arena during a basketball game. The smell of the action on the court mixed with the excitement of the fans creates an experience that no HDTV can match. That's why there's great excitement surrounding the new California State University, Northridge athletics department's MataClub seating program, the best way for men's basketball fans to get a real in-game experience.
By joining the MataClub, which is open to the public, fans get perks including a ticket for all home games at The Blacktop @ the Matadome, parking and in-game refreshments. The club also offers the ultimate Matadors fan benefit — the opportunity to meet with the men's basketball team and coaches.
"We are excited about offering this unique experience to the fans of Matador basketball," said CSUN Assistant Athletic Director for Annual Fund Alex Ackles. "It is an opportunity to watch a game from a different perspective and includes some great benefits to the ticket holder. We are always looking to branch out and try new things we think our fans will enjoy and that will add to the experience of attending a game at the Matadome."
Fans can secure their spot in the MataClub for $250 per seat, which includes the following benefits:
• One season ticket for all home games from Jan. 17 until the end of the regular season
• One parking pass for each game included in the MataClub package
• Access to pre-game and halftime hospitality areas
• In-game refreshments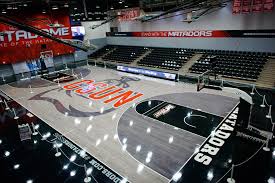 • Access to post-game press conference
• Opportunity to attend a meet-and-greet session with CSUN men's basketball coaches and staff
• Priority for purchasing CSUN men's basketball tickets for road games and the Big West Conference Tournament (when available).
MataClub premium seating will be set up along the railing on the south mezzanine level of the Matadome and be unveiled for CSUN's Big West Conference home opener, Jan. 17 against Cal Poly. To purchase MataClub tickets or to upgrade existing season tickets, please contact Alex Ackles at alex.ackles@csun.edu or by phone at (818) 677-3008.