CSUN's Carl Horsley Named Big West Male Track Athlete of the Year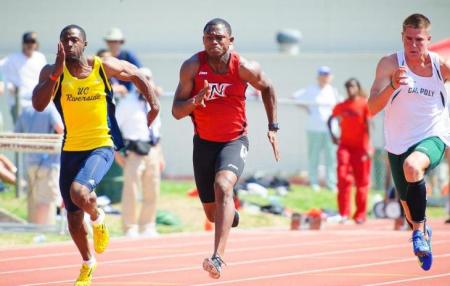 California State University, Northridge track star Carl Horsley came back in a big way in 2013 after a set of nagging injuries plagued his 2012 season. Horsley, a junior sprinter, set records and captured conference championships and was rewarded with the Big West Conference 2013 Male Track Athlete of the Year award. This is the Oakland-born Matador's second big honor—his first being the 2011 Big West Freshman of the Year award.
"To be recognized as the best in the conference is a very special accomplishment," Matador head track and field coach Avery Anderson told GoMatadors.com. "This is a testament to the hard work Carl put in to get back to form after dealing with injuries last season. He comes to practice and works everyday, doesn't make excuses and leads by example."
That tenacity was in full display at the 2013 Big West Championships, held on the CSUN Matador Track and Field Complex earlier in May. The award-winner won both the 100 and 200 meters and also ran the second leg of the conference champion 4×100 relay and the anchor leg of the 4×400 relay, all in the same day.
Horsley is the second male Matador athlete to win Track Athlete of the Year honors after De'Shawn Waters first captured it in 2009. Horsley and several of his Matador teammates will travel to Austin, Texas, next week to compete in the NCAA West Preliminary Round.
For more: Carl Horsley Named Big West Male Track Athlete of the Year (GoMatadors.com)