Four Named to CSUN's Athletic Hall of Fame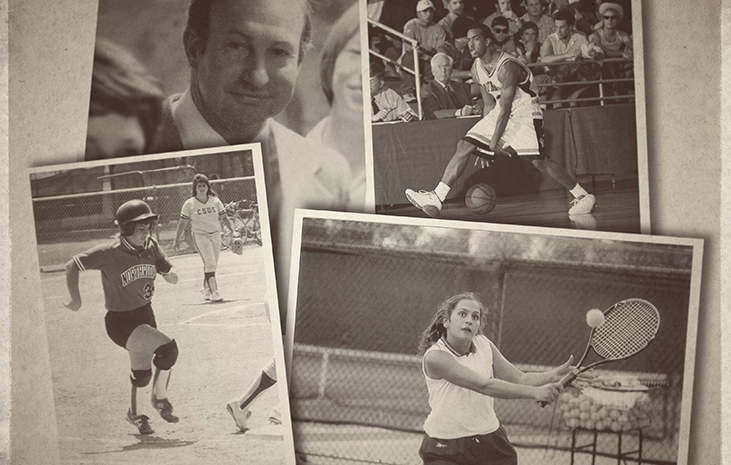 The California State University, Northridge's athletic Hall of Fame is populated by more than 200 former students and staff who brought athletic excellence to the Matador name. This year, four more will be formally inducted at the Hall of Fame ceremony on Feb. 9, at the Warner Center Marriott Hotel in Woodland Hills. CSUN Hall of Fame: Cliff Abel (Track and Field), Markus Carr (Basketball), Lisa Erickson '91 (Liberal Studies) (Softball) and Tereza Simonyan '04 (Business Law) (Tennis). Abel, Erickson and Simonyan were student-athletes, while Carr was the track and field coach.
"It's a great day for Cal State Northridge Athletics when we have an opportunity to honor these great student-athletes and coaches who are deserving of induction into the Matador Hall of Fame," said Brandon E. Martin, Ed.D., CSUN's director of intercollegiate athletics. "The Hall of Fame committee was overwhelmed with an elite group of outstanding candidates this year. This year's inductees gave the university unforgettable memories of their triumphs and hard work."
Abel was the track and field team's head coach from 1971 to 1979. He led his 1975 team to a NCAA Division II men's national championship, a squad that also included seven All-Americans. His legacy leaves three of his student-athletes in the CSUN Hall of Fame, and more than 65 top-10 performances under his watch still remain in the CSUN Track & Field record book.
Carr's basketball career at CSUN was a history-making one, with enough highlights between 1998 and 2002 to consider him one of the best point guards in the school's history. He led CSUN to a trip to the NCAA men's basketball tournament in 2001 during a stretch run of three years that saw him honored as a first-team All-Big Sky Conference player in 1999-2000, 2000-2001 and 2001-2002. He was also voted the team defensive player of the year in 2002, and holds the records for most rebounds in the school's history, as well as three of the top four records for single-season assists.
Lisa Erickson set the diamond ablaze during her time at CSUN, setting the school's softball records for career batting average, career runs scored, career hits and career stolen bases. She received national recognition as well, being voted onto two All-American teams; two first team All-Region teams; two California Collegiate Athletic Association first team selections and league MVP in 1989 and co-MVP in 1990. Erickson still owns the single season school record with 66 runs scored, the single season school record with 113 hits and the single season school record with 46 stolen bases. She was also a member of the 1987 NCAA Division II national championship team and four CCAA conference championship teams.
Rounding out the list of newly-minted CSUN Hall of Famers is Tereza Simonyan, who is arguably the best tennis player in the school's history. She was the Cal State Northridge Senior Athlete of the Year in 2003, her final season that saw her wrap up a career where she set a school record with 78 career wins (and an also-record career .796 winning percentage) and the single season record of 23 wins. She was also a four-time all league section, and helped lead the Matadors to the Big Sky Conference Title in 2001. Like Erickson, Simonyan received national acclaim, being named Conference Player of the Week on four different occasions.
This year's Hall of Fame members were selected from a large group of well qualified candidates. Members of the Hall of Fame nominating and selection committee included Martin; Ashlie Kite, senior associate athletics director/senior woman administrator; Bob Vazquez, assistant athletics director/strategic communications; Jim Bracken, head coach of the men's golf team; Gray Mounger, assistant vice-president for alumni relations; Mark Cooley '68 (Spanish) '71 (Education), a former Matador basketball player and Hall of Fame member; Dennis DeYoung '87 (Finance); Jim Gorman, a longtime Matador supporter; and William Watkins '74 (Urban Studies) , vice-president for student affairs and dean of students.
The Matador Hall of Fame was established in 1981 to recognize the men, women's, and Matador teams who distinguished themselves in athletics, either by sport or by meritorious efforts on behalf of athletes while an undergraduate or in years after leaving the university.
The Hall of Fame reception is scheduled for 11 a.m. followed by lunch and the induction ceremony at noon. Tickets are $60 per person, and $600 per table of 10.
For more information, contact CSUN Special Events at (818) 677-1300 or
halloffame@csun.edu.