Granada Elementary School Thanks Matador Student-Athlete Volunteers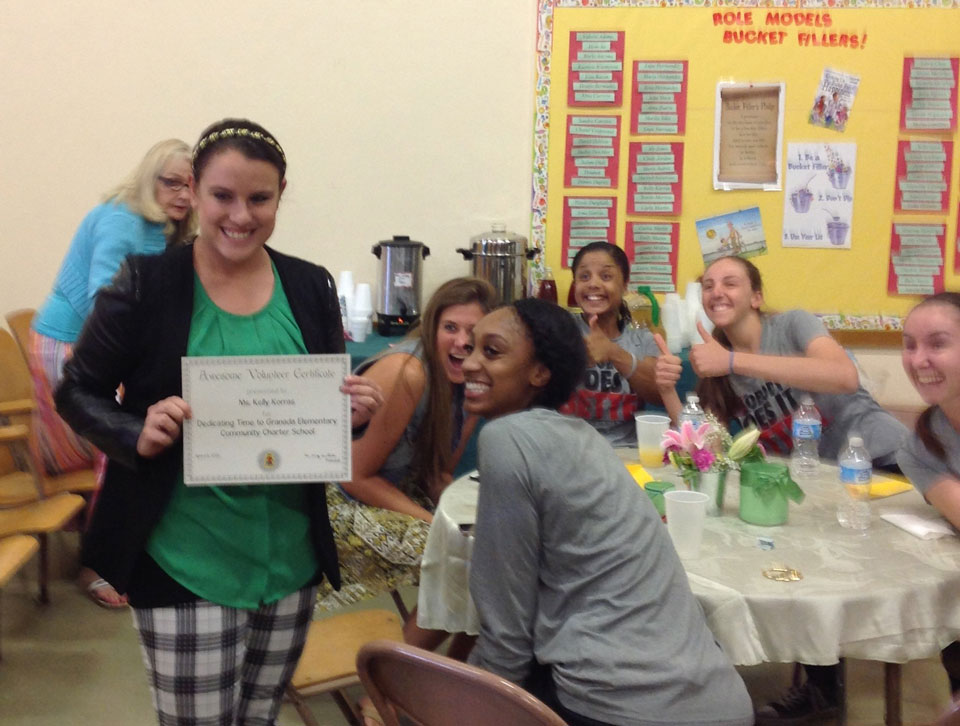 By Olivia Herstein
The California State University, Northridge women's basketball and water polo teams went back to elementary school this week — and earned gold stars for their work.
On April 23, the Matador student-athletes met for breakfast with teachers, parents and student council members at Granada Elementary School. The CSUN group represented dozens of student-athletes who volunteer weekly throughout the year at the PK-5 school, reading to children, playing kickball and assisting teachers.
"To have one teacher in the classroom is really not enough, and our aide time is limited," second grade teacher Lisa Bowden told the crowd of more than 60 volunteers in the school's auditorium. "So every bit of help you give helps our students. Thank you so much."
The women's hoops team — which recently returned from a trip to the NCAA Tournament and Big West Conference championship — sat with their head coach, Jason Flowers, and cheered loudest for the fifth- and sixth-grade student council members, who presented certificates of appreciation to volunteers.
"We have a great time, and we learn just as much from the students as they learn from us," said sophomore guard Breeyon Alexander, who reads to students in Mark Ellis' third grade class. "Sometimes I think we're having even more fun than they are."
The elementary school, just three miles from the CSUN campus, has sent student-athletes to volunteer with local children for at least 15 years, said third grade teacher Fabiola Villamar. With budget cuts in recent years, volunteers — including dozens of school parents and grandparents — fill in many of the gaps in teacher support, she said.
The school's faculty organizes the annual volunteer appreciation "tea," and teachers donate and cook the breakfast spread themselves, Villamar said.
"We have so many different volunteer groups from CSUN," she said. "These students today are just representing all of the teams — I wish we could have them all here."