Lev-Ari Tabbed as Semifinalist for MAC Hermann Trophy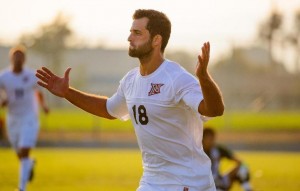 California State University, Northridge junior forward Sagi Lev-Ari has been selected as a semifinalist for the MAC Hermann Trophy, the Missouri Athletic Club announced Tuesday. Lev-Ari is one of 15 players, and one of five juniors, in the running for collegiate soccer's top individual award after scoring 16 goals and adding six assists for 38 points in his second season at CSUN.
"Sagi being honored as a Hermann Trophy candidate is a tremendous honor for him, his family and our program," said CSUN head coach Terry Davila. "It shows the level we are going to as a program to have a player of his caliber. He is a tremendous player, a tremendous scorer and he can do wonders around the net. We are honored to have him."
The MAC Hermann Trophy has been awarded annually to the top men's collegiate soccer player since 1967 and the top women's player since 1988. It is on par with college football's Heisman Trophy.
"I'm very happy and honored to be nominated for such a prestigious award," said Lev-Ari. "It means a lot to me and I thank my teammates for their work this year because this is as much a team award as anything. Hopefully we as Matadors can bring home this trophy."
Near the end of the collegiate regular season, NCAA Division I coaches that are NSCAA members voted on their top choices and resulted in the top 15 candidates. College soccer fans will also have the opportunity to participate in the selection process, as they will be able to vote beginning Thursday, Dec. 5, for their favorite semifinalist at the MAC Hermann Trophy website.
From that pool of 30, six finalists (three men, three women) will be chosen for the award. The winners will be announced in January.
Lev-Ari appeared in all 23 matches for the Matadors in 2013 and made 21 starts. He scored a goal in nine separate matches and had five multi-goal performances, including two hat tricks. Including assists, Lev-Ari recorded at least one point in 12 matches this year.
At the start of the NCAA Tournament, Lev-Ari was one of two players in the country with 16 goals and led the nation with 38 points. He became the first Matador since Willie Sims (2004) to find the net 16 times in a season. His work this year put him in a tie for seventh in the single-season record book at CSUN for goals and a tie for ninth in points (Jose Perez, 1984).
During the Big West Conference Tournament, Lev-Ari scored five goals, including two against Cal Poly and a hat trick at then-No. 10 UC Santa Barbara in the semifinal round. Eight of his 16 goals in 2013 came against the Mustangs and Gauchos, both consistently successful teams on the West Coast.
At the end of the season, Lev-Ari earned a spot on the All-Big West Conference First Team and was named an All-American by CollegeSportsMadness.com.
For his career, Lev-Ari has 31 goals, six assists and 68 points in just 45 matches for CSUN.
For more information about the history of the MAC Hermann Trophy and a list of past winners, visit the MAC Hermann Trophy page at NSCAA.com.