Alumna Jenny Windle Receives Lifetime Achievement Award With CSUN's Helping Hand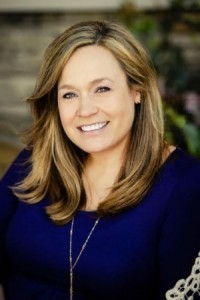 In April, Jenny Windle '05 (M.P.A., Public Administration) received the Paul B. Clark Lifetime Achievement Award from the California Association of Public Information Officials (CAPIO), a California-based membership organization serving nearly 500 professionals throughout the public sector.
The award is given to individuals who demonstrate exceptional leadership in the communications field. At 42 years old, a lifetime achievement award came early for Windle – but due to her education at CSUN, she was put on the fast track to success, she said.
"My education at CSUN was a pivotal point for me because when I was ready to pursue my master's degree, I wasn't exactly sure what I wanted to do," said Windle, who earned her bachelor's degree in communications from Western Washington University. "But my heart was attached to government service, so the master's in public administration program at CSUN was a perfect fit."
"I knew if I wanted to start my own company and do public relations for government agencies, having my M.P.A. from CSUN would really solidify my credentials," Windle added.
CAPIO, an organization Windle joined in 1997, gives government communications professionals networking opportunities and job training.
"[Windle's] continued success in the field of government communications along with her ongoing leadership in and support of CAPIO have truly made a lasting contribution to the profession," said CAPIO President Christine Brainerd. "She has raised the bar for public sector communication and was the clear choice for the 2017 Paul B. Clark award."
A Washington native, Windle moved to Palmdale shortly after earning her bachelor's degree and began working for the city of Palmdale. Windle said her time working in city hall is what motivated her to come to CSUN.
"I had a fantastic manager when I was working in Palmdale who encouraged me to expand my education," Windle said. " A lot of my colleagues were going to CSUN and they all said great things about the university. It ended up being a no brainer coming [to CSUN]."
After working her way up to the communication manager position in Palmdale, Windle had successful stints working for the cities of Vista and San Marcos. Windle then took what she described as a "dream job" as the director of marketing and communications for the Port of San Diego, where she directed a 16-person team and a $4 million annual budget.
However, the dream of starting her own company grew bigger and Windle decided to take the leap in October 2015 and founded JPW Communications, a communications, marketing and outreach firm that serves the needs of public sector clients.
"Leaving my job at the Port of San Diego and starting my own company was the scariest thing I've done in my life," Windle said. "But it has also been one of the most rewarding."
Thanks in part to the tools and knowledge she gained during her time at CSUN, the transition has been seamless. Windle's strong work ethic and willingness to take risks, she said, helped her succeed at her craft.
"What I loved about the Public Administration program was that it gave me a broad understanding of all the various facets of government," Windle said. "CSUN taught me how to think at a higher level and break through all the plateaus that I hadn't been able to do before."