'Black History is American History' : Students Reflect on Black History Month
Known for recognizing influential leaders and fostering a sense of pride in Black Americans, Black History Month (which runs through February) is a month of celebration, reflection and joy. According to Cedric Hackett, professor of Africana studies, "Black History Month is a chance to take an introspective look at our heroes and sheroes who sacrificed themselves in hopes of bringing … equity and equality to the culture. [It] is also a reminder to honor those agents of change and a call to action to create a footprint for prospective legacy leaders."
This focus on Black History Month is part of a year-long project on CSUN Today, in which we talk to students during cultural awareness months about the importance of cultural identity. How each student identifies themselves is noted, given that identity is personal and nuanced. This month, CSUN students reflect on what Black History Month means to them:
Sab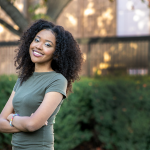 le Holt, 24, Black: When reflecting on the most empowering aspects of Black culture, Holt associates her growth and expression over the years with her hair. A second-year graduate student in mass communication, she recognizes the beauty of artistry and implements it heavily into her life, Holt says.
"[The most] empowering thing for me, as a Black woman, is my hair. There's a lot of emphasis on hair, and [in] the Black community, we take hair very sensitively and personally," she says. "And for the longest time, a lot of the practices that were involved in our hair weren't necessarily the best, [such as] really hot combs and just putting in different chemicals like perms."
As an artist and content creator, Holt urges students to take the initiative and learn about the history and creations of Black people.
"Learn more about Black creators, because a lot of history has been wiped out [by] colonization," Holt says. "So, really learn by doing your own digging about different inventors and different people that have done good things in the world."
Derrick Le
wis, 21, Black: Lewis' appreciation for Black History Month is impartial, even if it is his birthday month, he says. In celebrating the month, he focuses on Black leadership and history.
"Martin Luther King Jr., Thurgood Marshall, those people shaped society for Black people as a whole," Lewis says.
The fourth-year kinesiology student (emphasis on sports studies) also credits his fraternity, Alpha Phi Alpha Fraternity Incorporated, for cultivating a strong network for the future of Black men.
"I started my journey here at CSUN when I was a freshman, because I felt like I saw a lot of people not come back the second semester. … So, I got involved, which is what led me to my fraternity. I was a part of the Black Leadership Council as well, prior to being an Alpha. Alpha has taken me places — I sit on the board of directors of my fraternity, holding [one of] the highest undergraduate positions."
S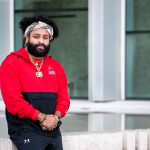 teve Terrell, 32, Black and Puerto Rican: Growing up in Washington, D.C., a "very pro-Black city," Terrell was steeped in a rich Black culture, he says. A fourth-year communication studies major, he's noticed many positive generational trends, especially thanks to social media and an overall media presence.
"Now, with social media, we are seeing a lot more of Black excellence and Black pride, just because eyes are everywhere all the time," he says. "We've seen it with different social movements, George Floyd, Breonna Taylor. … I've always been very proud of my culture. … I think Black excellence is everywhere. We have certainly [seen it] more than we have ever in past years and generations, so I'm proud of that."
Hearing stories from his grandmother about her own struggles with racism has inspired Terrell to better understand his culture and a trait she embodies: strength. He encourages students to pick a cause and support it. Personally, Terrell plans to continue to use his voice to create change and motivate others.
"Let's get busy. Let's create some real change, and see where we can take things," he says. "The sky's the limit — whatever we want, we can get. We just [have] to put the work in."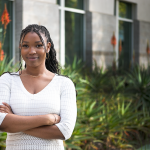 Fatimah Jackson, 21, African American: A fourth-year journalism major and cinema and television arts minor, Jackson respects the essence of her roots. She's fascinated by the lineage of African American Descendants of Slavery (ADOS), she says. Descendants may not want to know the depths of their history, or simply do not know, she says, but Jackson focuses on her ancestors' perseverance.
"In spite of being enslaved, my ancestors still prevailed. And I'm still here as proof," Jackson says. "So, I still feel like I have to honor them for that. It's not something that I'm ashamed of."
Acknowledging all the people who have taken strides and cultivated communities before her is important in her personal journey and identity as an African American woman, she says.
"To me, [Black History Month] means honoring what Black people before us did, and how we're able to get to this point in society where we can hold positions in office, be globally known celebrities and be activists or lawyers," she continued. "All of that was accomplished and done by Black people before us. And it's important to have Black History Month to really acknowledge those people and honor them … Black history is American history."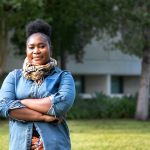 Kate Yaa Amposah Gregg, 49, Ghanaian: Gregg, a fourth-year public health major, was born and raised in Ghana. She values her innate culture, while also noticing the assimilation of her African roots in Western mainstream media and popular culture, including movies such as "Black Panther."
"Our culture has been more in the media these days — a lot of movies. A lot of people have migrated back to Ghana, Africa and other African countries [too], she says. "A lot of people are going back to find [their roots]. So, the mainstream media and the social network has really promoted Black people, and now they're all going back to find where they come from."
She appreciates the efforts of contemporary media, but the motivation has to start from within the community, Gregg says. She encourages students and anyone interested to learn more about African countries such as Ghana.
"I want [people] to do research for themselves, instead of just watching TV, or listening to social media or any kind of media. … I wanted people to really venture out of their comfort zone, not just to visit Ghana, [but also throughout] Africa. … If you really want to know the truth about somebody or their culture or who they are, you have to do the work and the research yourself."