Celebrating Native American Heritage Month
This month of November, we will be celebrating Native American Heritage Month. This month is dedicated to honoring the cultures and traditions of the indigenous communities around the country and recognizing  tribal members' achievements.  It also serves as a time to educate the public about the different tribes, the unique challenges faced by Native populations, both past and present, and how they have worked to overcome them.
Native American Heritage Month was first established in 1990, after Congress passed and President George W. Bush signed the resolution designating the month of November for this recognition. There are currently 574 federally recognized tribes in the United States.
As for CSUN, the campus is situated on the Sesevenga, the unceded territory that was home to the Sesevitam, whose descendants are now citizens of the Fernandeño Tataviam Band of Mission Indians.  CSUN offers an American Indian Studies Program in the College of Humanities, as well as the student-run organization, American Indian Student Association (AISA). AISA has special events and gatherings for Native American students on campus. CSUN also hosts the annual Powwow. This year's celebration of culture will take place on Nov. 25.
We spoke to three of our students on growing up in Native American culture, and the influence it has in their lives. These students are a part of AISA, where they can connect with other Native American students on campus.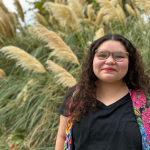 Emily Gomez, 19, Sophomore, Ojibwe and Guatemalan: "While my culture is a very beautiful history I get to be a part of, there is always also a lot of difficult history to talk about like stories that were lost. A lot of my family members identify as Native but we have lost a lot of culture that goes with it because of the reservation school system," said Gomez.
Ariana Olaya, 21, Junior, Indigenous Peruvian American: "One of my favorite parts is definitely just the sense of community that you have no matter whether you're indigenous from North America of South America or Central America. I've noticed that they tend to be there for one another and I also find it really amazing how you are educating others on your culture, but you were also allowing yourself to just keep learning about things from your own culture through other people as well."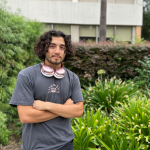 Tomier Ortega, 18, Freshman, Fernandeño Tataviam: "Whenever we (Tomier and his father, Rudy Ortega) go to Powwow events, we always see a lot of family members. Many times, I also see friends who support me during Native American History month."