CSUN Police Launch New Community Emergency Notification System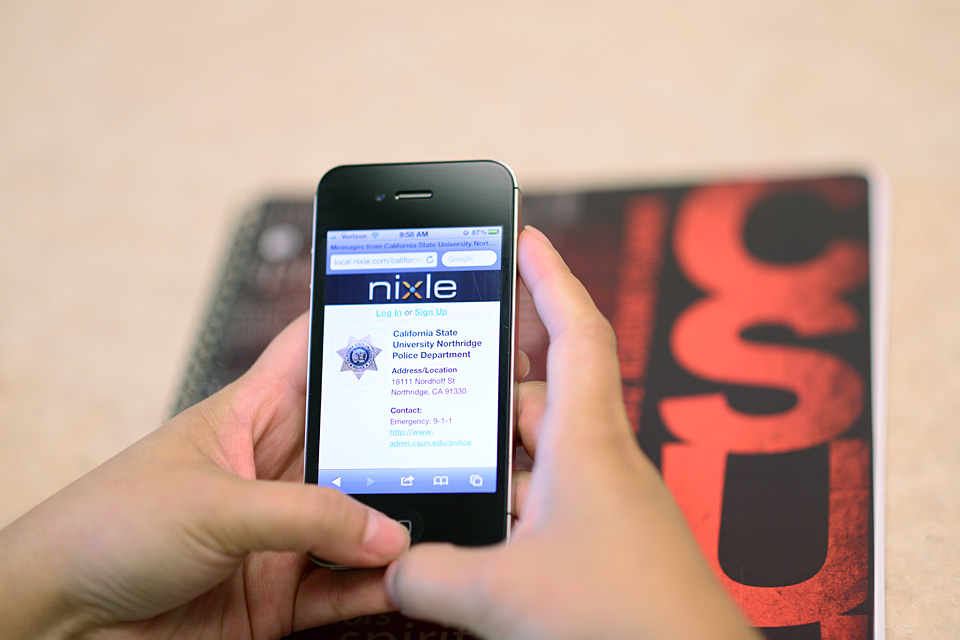 The CSUN Department of Police Services has launched Nixle, an emergency notification service accessible via a subscribers' cellular telephone. Photo by CSUN Police Cpl. Leon Ortiz-Gil.
The Department of Police Services at California State University, Northridge has launched Nixle, an emergency notification service designed to allow easy communication with students, faculty, staff and the Northridge community.
Nixle allows the police department to communicate with the public via text message and email regarding public safety alerts. It is free to subscribers; however you must opt-in for this service and standard text message rates may apply.
"Nixle provides an additional platform to increase our communication ability during an emergency or critical incident," said Christina Villalobos, public information officer. The campus currently utilizes and will continue to use Blackboard Connect for emergency notification to students, faculty and staff.
Nixle will allow community members, including parents to sign up to receive alerts. Those interested can register by texting "csunpolice" to 888-777 or signing up online, where custom settings can be managed for notification preferences.
"What makes Nixle unique for CSUN is that parents and neighbors now have a means for staying up to date with information disseminated by CSUN PD during emergencies and critical incidents," Villalobos said. "Prior to having Nixle, only faculty, staff and students were notified since we used contact information uploaded from the campus database."
The service is used by more than 6,000 public safety agencies including the Los Angeles Police Department, which was one of the first large agencies to test the service. Nixle is a secure communications service available to municipal, county and state government agencies.