CSUN Ranks High on List of Peace Corps Volunteers at HSIs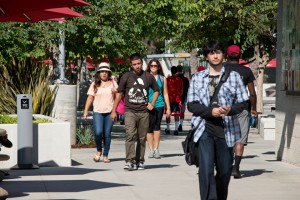 For the past 53 years, the Peace Corps has been a volunteer-based organization that has provided health care, food and technology to people across the globe. In return, the volunteers experience a cultural exchange that stay with them for a long time. California State University, Northridge has been named number five on the 2014 list of Hispanic Serving Institutions who send volunteers the Peace Corps' way. CSUN is one of seven Californian HSIs to land in the top 10 this year.
"I applaud these Hispanic Serving Institutions for elevating the value of service and encouraging their students to promote the rich diversity of the American people," said Peace Corps Acting Director Carrie Hessler-Radelet. "We want every American to know about the Peace Corps so we are stepping up our outreach in underrepresented communities so our volunteer force represents the beautiful multicultural nation that we are."
CSUN has been offering the Peace Corps to students since 1961, and more than 450 Matadors have participated. The school recently began offering the Peace Corps Master's International Program, which offers the opportunity to combine the Peace Corps service with a master's degree program.