Hispanic Heritage Month 2023: Celebrating Hispanic Culture on Campus
This fall, we commemorate Latino/a/x Heritage Month, or Hispanic Heritage Month. This yearly celebration is held from Sept. 15-Oct. 15. It honors Latino/a/x cultures and recognizes students' achievements — and encourages students to learn about their history. It's a moment for Matadors and the wider community to share how their heritage has shaped their lives.
President Lyndon Johnson inaugurated the annual commemoration as Hispanic Heritage Week in 1968, and in 1988, President Ronald Reagan expanded the celebration to an entire month.
CSUN is one of the most diverse universities in the nation, with students from all over the world, particularly the Latino/a/x community. CSUN ranks second in the nation in awarding bachelor's degrees to Hispanic students, according to the Hispanic Outlook on Education magazine (2021), which focuses on Hispanic education in institutions of higher learning.
CSUN is a designated Hispanic Serving Institution. As of fall 2022, 55.4% of the student population is Latino/a/x. 
We interviewed five students to learn more about their culture and their thoughts on their heritage.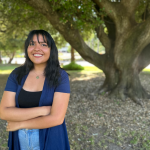 Melissa Rodriguez, 20, Puerto Rican: "At CSUN, there are a lot of different Hispanic cultures, which is really cool to learn from. Some share many similarities to my own, and others are different. There is a wide representation that I'm proud to be a part of. "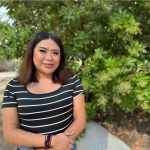 Sarah Castro, 21, Mexican American: "What I like about growing up Mexican American is how many traditions my culture has, like quinceañera parties and big celebrations, [or] even if it's just the littlest things — I like how I get to experience it here as well as in Mexico."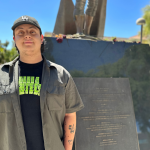 Samuel Torres, 21, Mexican American: "My culture … has allowed me to flourish. My culture is respected and loved by other Latino peers. We are all Latinx, but we are all from different varieties and different heritages, and we have different backgrounds in the smallest things — from accents to the way we pronounce certain things in Spanish, to the food, the music and the way we view certain lives. It's amazing to see that CSUN is nurturing the growth and strengthening ties in the Latinx community."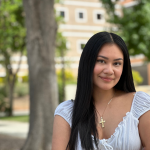 Sucely Vasquez, 20, Latina: "My favorite part of my heritage is just how hardworking we are and also the family orientation."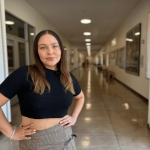 Leah Villalpando, 21, Mexican Guatemalan: "I feel very welcomed in the CSUN community. We have a lot of Hispanic and Latino students here. CSUN has a lot of cool events and posts that show off Latino community, which makes me feel represented on campus."