NASA Internships Triple for ARCS Students in Majors Across Campus
---
As NASA invests millions of dollars in initiatives to help diversify the STEM workforce, a partnership with California State University, Northridge was a natural fit.
With 60% of its student population identifying as traditionally underserved and 56% female, CSUN's NASA-funded Autonomy Research Center for STEAHM (ARCS) is a natural place to provide opportunities in science, technology, engineering, math — and beyond — to students who traditionally haven't had them, including women.
Part of the partnership's success stems from ARCS projects where students regularly interact with NASA engineers and other staff. Even greater is the opportunity for students to contribute further by landing coveted internships with the space and aeronautics agency.
Five students earned internships in 2020, the first summer of the program. That number rocketed to 17 this summer, with CSUN students working at locations including the Jet Propulsion Laboratory, Ames Research Center in Silicon Valley and Langley Research Center in Virginia.
Center leaders want that number to reach 100 internships a year within five years.
"What we're doing with NASA is a perfect match," said Nhut Ho, ARCS founding director. "People have a need to rally around causes and missions — curiosity on Earth or in space and making a change for humanity. Our students want to be part of that.
"In my view, this center has the [potential] effect in a few years to make CSUN a nationally recognized partner of NASA," he said.
In 2019, NASA awarded CSUN $3 million to establish ARCS, where STEAHM stands for science, technology and engineering, entrepreneurship, arts, humanities and mathematics, on campus. The center serves as a research base for faculty and students from colleges across the campus as they study various aspects of increasingly autonomous systems — ranging from autopilot to advanced systems that are able to adapt and evolve. ARCS projects center around seven areas of concentration: trustable autonomy, human-machine teamwork with explainable artificial intelligence, social and moral autonomy, improving social medicine with autonomy, autonomy literacy, autonomy for future manufacturing, and autonomy in law.
The appeal of performing NASA-related research and potentially working for the agency generated 85 applications from CSUN students this year for 24 fellowships. There are roughly 150 students involved with the program.
CSUN's relationship with NASA was intended to be transformational. And it has been, university leaders say.
"ARCS creates unique opportunities for our students to impact our nation on a grand scale," said Mary Beth Walker, provost and vice president for Academic Affairs. "CSUN students engaged with ARCs are highly driven and motivated to make a difference in their communities and across the country. The NASA internships provide substantial experiential learning that not only showcases their talent, but also has the potential to accelerate their career success."
Erica Bettencourt, Giovanna Garrido Blanco and Rebecca Carbone capitalized on their experience with ARCS and were hired as NASA interns this summer. Blanco and Carbone worked with the Jet Propulsion Laboratory. Blanco performed data visualization, and Carbone helped develop programming language. Bettencourt worked for Ames Research Center, developing front-end software to enhance users' experience.
All three internships were virtual, due to the pandemic. But the experience, they said, was invaluable nonetheless.
"You could talk to anyone and ask questions about anything. They're excited and open about their work," said Blanco, who is pursuing a master's in psychology. "Even though the internship was remote, just being able to hear about what they're doing and the effort they put in … I left online meetings full of energy. I was in awe and motivated."
The popularity of ARCS among students runs the gamut of CSUN's degree programs. Communication studies. Humanities. Social science. Anthropology. Organizations such as NASA are powered as much by rocket scientists as people whose degrees are non-technical.
"Sending rockets to the moon is a big deal and makes more news," said Joe Bautista, ARCS associate director. "We have students doing communications and human behavior-related research. We're trying as a center to offer the idea of STEAHM, and the 'A' and 'H' is pretty important."
Bettencourt, a graphic design major who graduated in May, was taken aback when she landed an internship, because she didn't realize her skills might fit with NASA.
"This was a great experience because I was being stretched in a way that provided a lot of growth," Bettencourt said. Before joining ARCS, "I had no real concept that a NASA internship was attainable at all, let alone in my field. There is a misconception that you have to be some savant genius mathematician or biologist to get these internships. NASA needs designers and journalists, and there are those opportunities there."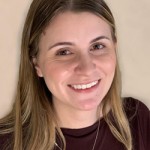 Carbone, a computer science major, agreed.
"It was a great thing to have a research center partnered directly with NASA," Carbone said. "It's not something I would've imagined existed."
Ho said he hopes those opportunities will extend to other ARCS students who can help make a difference with other organizations across the country.
"We invite partners to join NASA to invest in us, to achieve our goal of uplifting the university and everybody in it," he said. "We're making it happen."