Official CSUN Mobile App Rolls Out Pay Now Feature For Students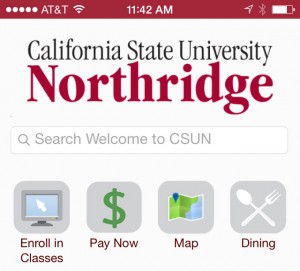 As technology and education increasingly merge, California State University, Northridge continues to be a leader in providing new mobility services for students. This month, the Division of Information Technology updated the official CSUN mobile app to accept payments via credit cards and electronic checks via the Cashnet system. CSUN is the first campus in the CSU system to offer this service to students.
The "Pay Now" feature on the app, which is available on iOS, Android and mobile web platforms, replicates the same payment services that are available in the myNorthridge Portal, including tuition for CSUN and Tseng College, as well as the office of Student Housing and Conference Services.
"It's wonderful to offer the new Pay Now functionality, allowing students to pay for their tuition and fees directly from the CSUN mobile app," said Hilary Baker, CSUN's vice president for information technology and the head of the team that developed the app.
Ed Zix, the campus' director of web services, sees the app addition to be a boon for the busy, on-the-go CSUN student, adding that "the Pay Now module will allow students to pay anytime from anywhere."
The CSUN mobile app adoption by the campus continues to grow. Baker reported that the app recently hit the 30,000-download milestone.
Along with the Pay Now addition, the CSUN app also recently added a Department of Police Services module, which provides information to the CSUN community to request a personal safety escort, file a police report, view upcoming workshops and read crime alerts.