Volunteers Honored at Annual Service Awards Luncheon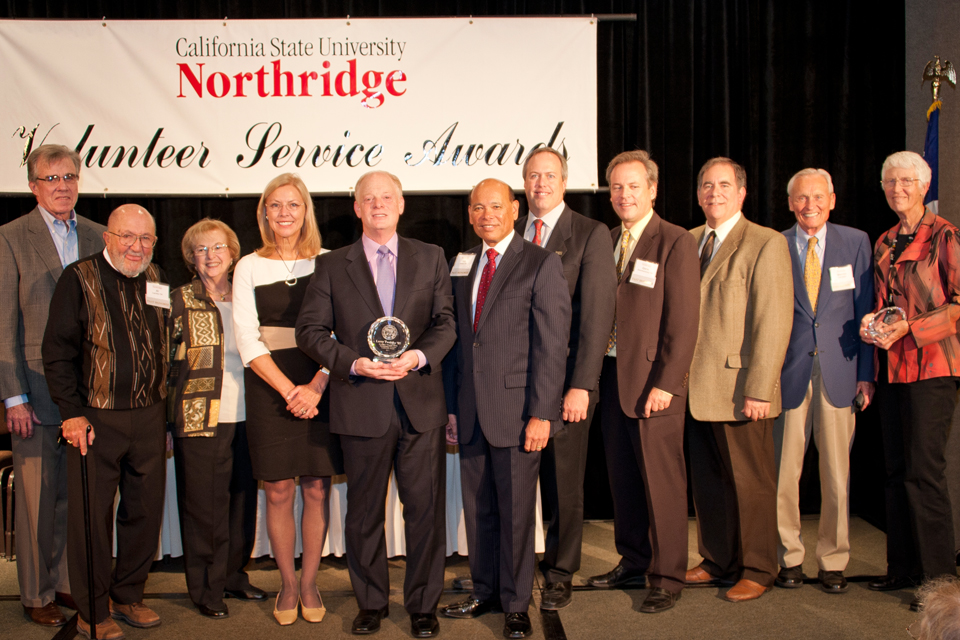 President Dianne F. Harrison poses with the 2012 Dorothea "Granny" Heitz and Dean Ed Peckham Award winners alongside past awardees. From left: Jim Gorman, Al Lapides '68 (Business), Sherry Lapides, President Dianne F. Harrison, Larry Twersky '85 (Marketing), Milt Valera '68 (Journalism), Dennis DeYoung '87 (Finance), Gene Detchemendy '84 (Marketing), Wayne Adelstein '70 (Political Science), Warren Campbell and Nancy Owens. Photo by Lee Choo.
California State University, Northridge presented awards to 20 volunteers at its 11th annual Volunteer Service Awards on Nov. 1, including the organization's two highest honors: the Dean Ed Peckham Award, presented to emeritus professor Nancy J. Owens, Ph.D., and the Dorothea "Granny" Heitz Award for Outstanding Volunteer Leadership, presented to Larry Twersky '85 (Marketing).
The university also honored eight college recipients, three university recipients and seven alumni chapter recipients during the luncheon at the Airtel Plaza Hotel in Van Nuys.
"We are grateful to you for your leadership," said CSUN President Dianne F. Harrison to the honorees and other association members who serve on boards and committees. "You help select scholarship winners and student and alumni award recipients. You record affirming testimonials and participate as expert panelists and guest lecturers. Others of you are mentoring the next generation of students and alumni so that they, too, will be prepared to be successful in their professional lives."
Both D.G. "Gray" Mounger, assistant vice president for Alumni Relations, which organized the event, and Dennis DeYoung '87 (Finance), president of the Alumni Association who gave the opening remarks at the event, congratulated the winners. Mounger said more than 300 individuals had been honored since the event was first launched 11 years ago.
Nancy Owens, winner of this year's Dean Ed Peckham Award, given annually to an emeritus or retired member of the faculty or staff who continues to contribute to the CSUN community, is a wonderful example of this commitment to the university.
Since retiring from CSUN in 2003 as a professor emeritus, Owens has remained an active volunteer. As the curator of the Family and Consumer Sciences Historic Costume Collection, she catalogs, photographs and stores donated garments and antique and ethnic textiles. The oldest pieces date back to the 1880s.
Before retiring, Owens was active with the Faculty Senate, serving as president for two years. She is past president of the Association of Retired Faculty and is the association's current program chairperson. Not forgetting how scholarships helped them, Owens and her husband set up endowed scholarship programs in the Department of Family and Consumer Sciences and in the College of Engineering and Computer Science, and created an endowment to support the textile laboratory and the costume collection.
Named in honor of the late Granny Heitz, CSUN's unofficial spirit leader and founder of the "Granny Girls" spirit squad, the Dorothea "Granny" Heitz Award for Outstanding Volunteer Leadership is annually presented to alumni or friends who serve the university as outstanding volunteer leaders.
This year's winner, Larry Twersky, has earned a national reputation during the last 25 years as a visionary entre­preneur and is recognized as a foremost expert in automated customer relation­ship management (CRM). Twersky developed the first wireless CRM product for Palm and established Corporate Computer Center, one of the most successful CRM consulting practices. His experiences include 10 years as president of 1-800-DENTIST, and he is the founder and current CEO of 1-800-Snoring.
Twersky serves on the College of Business and Economics Dean's Council of Advisors and mentors CSUN business students. He was appointed to the CSUN Alumni Association Board of Directors in 2003 and elected to the association presidency in 2007.
As president, Twersky was credited with helping to increase the alumni association's membership by 50 percent to 10,000 members. The highlight of his term was CSUN's 50th Anniversary Grand Reunion, which attracted an audience of 5,000 alumni and friends.
"I am so honored to receive the Granny Heitz Award," Twersky said. "Granny exemplified the enthusiasm and dedication I hope all alums feel for CSUN. By putting that enthusiasm into action through joining the Alumni Association, volunteering and giving, our 200,000 alums can be a powerful force for helping CSUN shine even brighter."
Following are the other award winners honored at the event.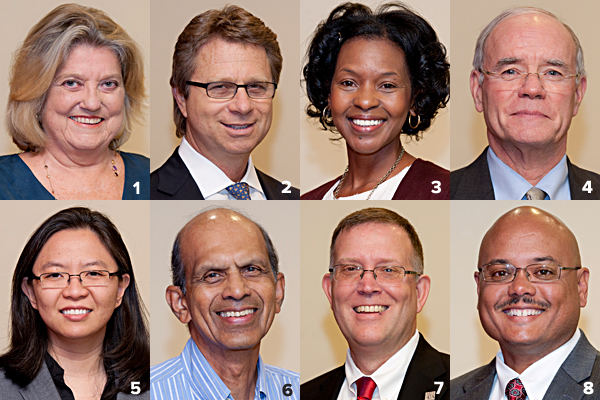 COLLEGE RECIPIENTS
1. Sue Haber '64   Mike Curb College of Arts, Media, and Communication
2. Roy Salter '79   College of Business and Economics
3. Theresa Quary   Michael D. Eisner College of Education
4. Charles H. Volk, Ph.D.   College of Engineering and Computer Science
5. Ronora W. Sayaman '97   College of Humanities
6. George Thomas, Ph.D.   College of Science and Mathematics
7. Kurt Christiansen '85   College of Social and Behavioral Sciences
8. Jeremiah "J.B." Williams MPA '12   Tseng College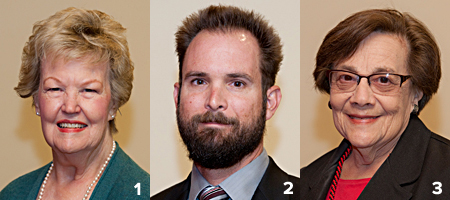 UNIVERSITY RECIPIENTS
1. Dotti Goggin '75   Arts Council
2. Michael Arone '00   Intercollegiate Athletics
3. Iris Caplan '81   Delmar T. Oviatt Library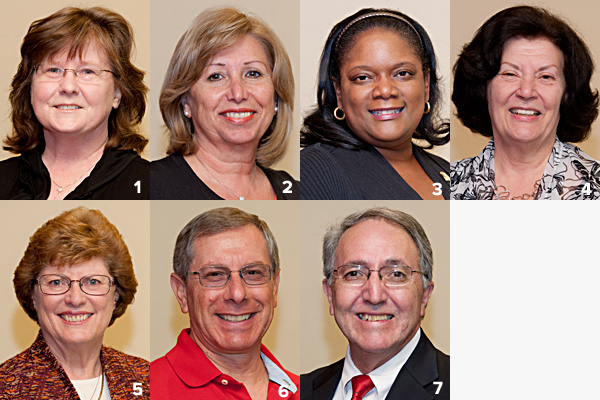 ALUMNI CHAPTERS
1. Susan Barney '04   Accounting and Information Systems
2. Hasmig Baran Cred. '95, M.A. '97   Alumni and Friends of the Armenian Studies Program
3. Shanté Morgan-Durisseau '90   Black Alumni Association
4. Joyce Munsch, Ph.D.   Child and Adolescent Development Alumni Association
5. Laurie Cartwright '70, Cred. '92, M.S. '92   Communication Disorders and Sciences
6. Robert Finkelstein M.S. '78   Environmental and Occupational Health
7. Joel Fisher, MPA '07   Masters of Public Administration