Shattering the Glass Ceiling: Vivian Ekchian Becomes GUSD's First Female Superintendent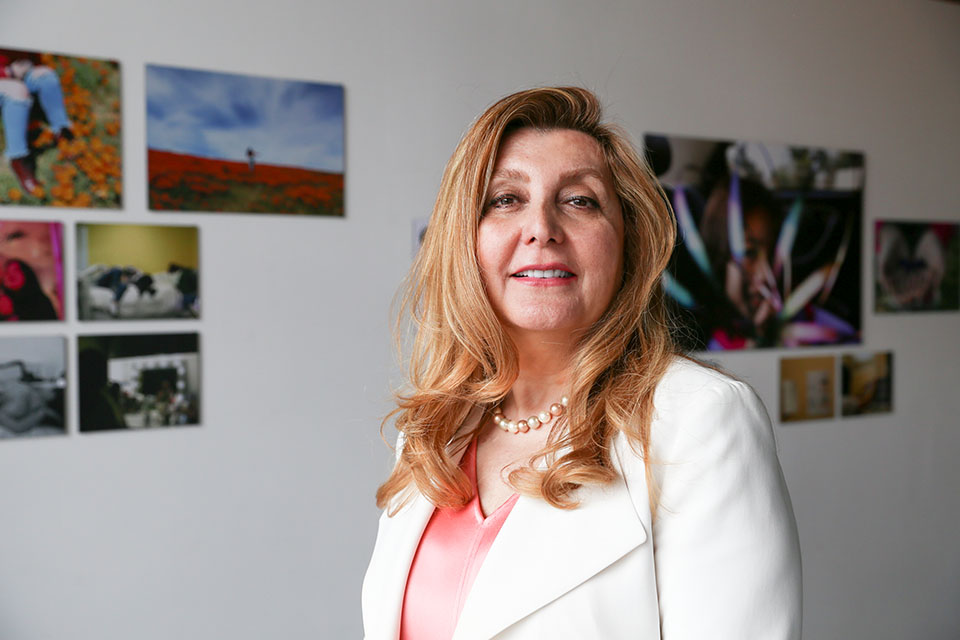 Photo courtesy of Vivian Ekchian
For more than 12 years, Vivian Ekchian '82 (Political Science), '87 (Teaching Credential) has served the community of Los Angeles in a variety of roles — from teacher's assistant to, most recently, interim superintendent at Los Angeles Unified School District (LAUSD). In May, she smashed the glass ceiling by being named the first Armenian American female superintendent in the 106-year history of the Glendale Unified School District (GUSD).
"I want people to know that I've come in as the superintendent of the people," Ekchian said.
Before she was appointed, 17 men had served as superintendent of GUSD, dating back to 1913 with Richard D. White, according to the Los Angeles Times.
In 1979, at age 19, Ekchian moved with her family to the United States from Germany after leaving Iran at a young age. They moved to Woodland Hills and, soon after, Ekchian started classes at Pierce College before transferring to CSUN in the early 1980s. She had heard great things about how immigrant students were embraced at the university and felt she would find a home at CSUN. She also had a strong interest in political science and knew that CSUN's department had a great reputation.
"Even though it was a university, that learning was personalized to the students," Ekchian said. "The professors were available to meet with students; class sizes were large, but not unruly; and I received the attention I needed from the counselors to be successful."
While at CSUN, she started working as a teacher's assistant at an elementary school in Hollywood and quickly realized that she may have found her calling as an educator.
"Education is what levels the playing field for all, and it really is the beginning of every aspirational goal a person may have," Ekchian said. "That is what motivated me to go into teaching and support the youth."
She earned her teaching credential from CSUN in 1987, taught for 10 years in a variety of positions — including an outside-the-classroom teacher advisement position and principal at Rio Vista Elementary in North Hollywood in 1999 — before pursuing her master's and administrative credentials from UCLA. This past May, Ekchian also completed her doctoral degree in educational leadership from USC.
"I loved teaching so much," Ekchian said. "I could have stayed in teaching forever and not missed a beat."
However, her career shifted away from the classroom and into leadership and administrative roles where, she said, she felt she could have a greater impact on an entire school.
Ekchian applied for the superintendent position at GUSD in hopes of giving back to her community. She didn't know the historical significance her appointment would hold.
"It was a pleasant surprise for me to know that I was the first woman," Ekchian said.
In a Glendale News-Press article on Ekchian's appointment, school district board President Jennifer Freemon noted why the CSUN alumna was the right choice to lead the district.
"Our absolute first priority was finding the best person for the position and finding somebody that had the wealth of experience, that had the understanding what student achievement really means — that it's not just a test score, but the whole child — and really deeply understands that," Freemon told the newspaper.
As superintendent, student and community voices are important to Ekchian, she said — especially as a member of a demographic group, Armenian American, that makes up 36 percent of the Glendale community. During the early 2000s, she helped create an Armenian Genocide curriculum in textbooks used throughout California.
Just as she helped the state understand the historical significance of its Armenian residents, Ekchian hopes, in her new role, to get to know the community of Glendale more intimately by personalizing their experience and learning from students and the community — as a whole — what matters to them.
"Health and wellness are incredibly important for our students and communities," Ekchian said. "Being multilingual, being globally competitive, giving our students the chance to obtain the most desirable job they wish to obtain is our responsibility."