2014 Wolfson Scholar: McKinzie Garrison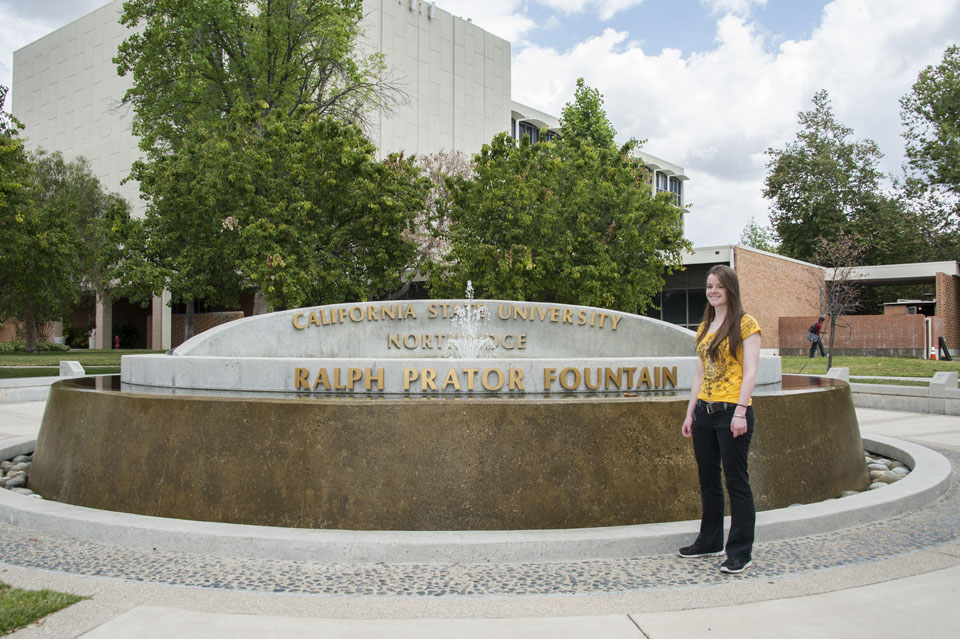 Biochemistry major McKinzie Garrison is CSUN's 2014 Wolfson Scholar. Photo by Nestor Garcia.
When asked to reflect on her academic achievements after being named the 2014 Wolfson Scholar – the highest honor granted to a graduate from California State University, Northridge – McKinzie Garrison reflected on the key decisions in her life that brought her to this momentous occasion.
When she graduated from Vasquez High School in her hometown of Acton, Garrison was like so many young people who are the first members of their families to explore higher education.
She described herself as studious, but she looks back on that time and said, "I had absolutely no idea how to go about getting a bachelor's degree."
Garrison enrolled at nearby Antelope Valley College. In the process of taking general education courses, she happened to take a class that would change the path of her academic career.
"I stumbled upon a chemistry class, which was both an amazing and painful experience," Garrison said. "It wasn't an easy class, but you know how you feel like you're in tune with a particular subject?"
That connection led to more chemistry courses and eventually declaring her major in biochemistry. Shortly thereafter, Garrison transferred to California State University, Northridge, where her education continued to flourish.
She has maintained a 4.0 GPA throughout her academic career, though Garrison did experience a crossroads that almost led to her dropping out of CSUN a little more than a year ago. Garrison was offered a position as a lab technician in forensics for the LAPD. With mounting debt from school loans, she came close to walking away and doing work more closely related to the TV show CSI.
"It was a rough decision, but I decided to stick with the bachelor's degree route," Garrison said. "I am very happy that I did it because I don't think that I would have been happy. I certainly wouldn't have been able to learn as much as I have."
After deciding to stay in school, she partnered with one of her professors, Karin Crowhurst, and published a work with the mouthful title, "NMR-monitored titration of acid-stress bacterial chaperone HdeA reveals that Asp and Glu charge neutralization produces a loosened dimer structure in preparation for protein unfolding and chaperone activation."
Garrison also joined a lab group with fellow students Lusine Simonyan, Madelene Chabaan, Jan Maly and Shayla Brooks that has been a great experience for her personally as well as academically. Her postgraduate plans are to enroll in a doctorate program, either in biochemistry or toxicology.
Upon being selected this year's Wolfson Scholar, which is named after Leo Wolfson, the first vice president in CSUN's history, Garrison could hardly contain her surprise.
"I was shocked that I was even put up for it, to be honest," she said. "I know that I get good grades, but I don't expect extra recognition for it. I was beyond shocked that I even got past the departmental phase, where I became the representative for the college."
Garrison will be among the outstanding graduates recognized at the Honors Convocation at 6 p.m. on May 16 on the lawn in front of the Delmar T. Oviatt Library. Five days later she will graduate with the College of Science and Mathematics to fulfill her own goal as well as to fill her parents, Kathy and Stan Garrison, with abundant pride. And as she takes part in those ceremonies to reward all the hard work, sacrifice and decision to stay the course, Garrison will reflect on her days at CSUN.
"CSUN has been amazing to me in every way," Garrison said. "The people here are incredibly nice. All of the professors have worked so hard to help me and they've sat there and dealt with all my questions and been super patient. My peers have really helped me as well. I'm really glad that I came here. I don't think I would have had the same experience had I gone to a different place, and I wouldn't have met the people that are now really important in my life."