Four Decades with William Watkins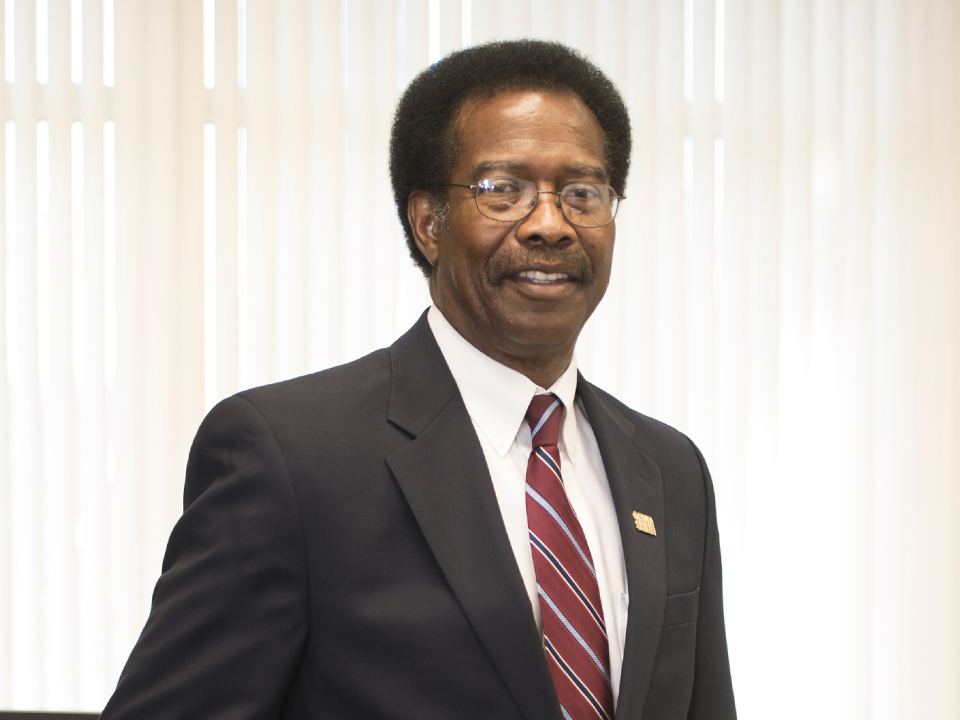 Vice President of Student Affairs and Dean of Students William Watkins recently celebrated 40 years at CSUN, his alma mater. Images by Lee Choo
The Vice President of Student Affairs and Dean of Students reflects on 40 years at his alma mater
At the recent Staff Service Awards for California State University, Northridge, one of the longest-tenured honorees was Vice President, Student Affairs and Dean of Students William Watkins, who celebrated 40 years with the university following the just-completed school year. Actually, that does not take into account his years as an undergraduate student at CSUN, during which he was elected the university's first African-American Associated Students president.
Watkins has seen CSUN evolve during the past four decades, from the student movements in the 1970s, to the rebuild after the 1994 Northridge earthquake to the internationally respected campus that it is today – a reputation that many students, faculty, staff and alumni helped build.
"William is an outstanding leader and valued colleague," said CSUN President Dianne F. Harrison. "His service and leadership are informed by his own experiences as a student here. They trust his counsel, and he has the gift of easily connecting with students and understanding their concerns and challenges. The CSUN student experience has been deeply enriched through William's leadership"
"A lot of people have a job, but not a calling. For him the job is the calling," said CSUN Provost Harry Hellenbrand. "It's got a noble purpose to it. It's making people better individuals and helping them to discover themselves and their role in life. That spiritual dimension to it is what makes him stand out in many respects. He wants them to be better people and he understands that everybody has to be treated differently to get that done well. That's a pedagogical issue, but it's also a spiritual issue. To get to that point, where you can do and exercise a calling is rare these days. I think that's why he's so admired and he's done such a good job here."
Watkins received the Champion of Hope in Education Award earlier this year as a part of the Legacy of Hope Awards from the Hope Community Development Center in the San Fernando Valley. The recognition was for his many of years of service to students at CSUN and beyond. Following is an interview during which Watkins reflected on his years of service with the university.
CSUN recently celebrated a week of commencement ceremonies. How much does that reinvigorate why you're here?  That's really what commencement is for me. It's the chance to get recalibrated and to remind oneself why you put in the long hours. Public higher education is so, so important for regions such as ours. On the night of the last ceremony, to put a wrap on the whole experience, I just walked out by myself and just stood and took it all in. I watched families embracing and displaying the fervor and excitement of achievement and accomplishment. People were coming to the stage and sitting there as if they were faculty and administrators, being in the moment of the commencement celebration.
The work that we do here at Cal State Northridge is consequential. This is a difference-making institution. We're elevating families. We're elevating individuals to new life possibilities. And I don't think it gets any better than that. If you want to live a purposeful life, Cal State Northridge, at least for me, has been the vehicle for doing that.
This is 40 years for you. How can you measure the evolution of the university over those four decades?  It's multi-level. We can talk about the physical space of this university. I just love having alums come back and they see this university. They gawk at it and get kind of mad that things look so much better since they were here. Sometimes they can't find their old spots, because the physical transformation since the earthquake has just been very substantial. The campus took the hit of the earthquake. It endured those many years of reviving itself to be the campus that it wanted to be going forward. 'Not just back, better,' was the slogan.
It's also quite gratifying to see the current generation of students first set foot on our campus and really be amazed and enlivened by it. If they have doubts about whether or not Northridge is the place for them, when they come and they move around the campus, they really see it's a very contemporary environment.
We have a very, very diverse student population. When I was a student here, we talked about student diversity as an objective. Done. That's so done now. We're all the way there. We now have the experience of trying to adjust our delivery of the educational experience and adjust our way of serving students to be responsive to the students who are here.
Our student enrollment has been in a state of transition over the last three to five years. There have been some pretty significant changes in terms of our demographic. I think we're kind of the leader of the pack in terms of diversity and high-quality educational programs. Northridge has always had a very strong academic program. I think we can say that we've sustained those standards of learning and achievement while serving different populations of students.
We're now probably a little more willing to talk about ourselves and the good we do in our region. This has been a campus that's been really, really content to keep its head down, do good work, turn out great graduates who go on and beat everybody that they can, including grads from UCLA and USC. The objective of CSUN's graduates has been to move into companies and lead them. Today we are more inclined to recognize that there is a great story here that the public needs to hear about, so that the public becomes excited about us and invests in us in ways that support enriched opportunities for our students.
Student life, and our recognition of student life, has become embraced as a very important element of student success. Back in the day, clubs and organizations were kind of about balloons and T-shirts and having a good time. We now know from pretty well-established research that things that happen outside the classroom can really bind students to the university. They keep them here. It helps mitigate the turnover that we unfortunately have too much of throughout all of public higher education. Just a lot of things going on at Northridge.
What trends have you seen among students develop over the years?  The students who came here during the '60s, '70s and into the '80s were probably more engaged in social causes and movements, changing institutions. They were a very independent group. They left home and they wanted to be independent.
The partnerships today that exist between students and their parents and families are phenomenal. This generation of students, for many of them their best friends are their parents. The whole family comes to college with them and they leverage the resources and support of the family toward their success, even when their parents haven't gone to college.
Some decades ago, if you were a first-generation student, pretty much your parents didn't have much of an insight into what you were doing out there in college. That's not true any longer.
Parents have worked very, very hard to understand what college can do for their sons or daughters, even though they themselves have not gone to college. Part of this has been occasioned by the online resources that we have. Also, we have a number of parent institutes and programs where parents can take classes on the weekend and learn how to do college. The high schools are doing a better job of introducing parents to their roles in being supporters of education today.
At our 'Explore CSUN' college preview event in April, we were overwhelmed by the large turnout. We would typically plan for a student, and maybe mom and dad. This year, prospective students came with mom, dad, siblings, grandparents and extended family. They were all here. We were really scurrying to service them. They just kept coming (laughs). That's the academy of today. I think that excites me the most about the prospects for the future. Moving forward over time, we know that when we educate, we really are educating a family. And through families, communities. We're extending our reach beyond just the student who's in the classroom. That's an exciting piece.
How does the growing international population of students help shape the university?  Northridge has been on a 10-year march, increasing the number of international students here. We're moving now from just doing that numerically, to doing that in terms of the quality of experience the international students have. And equally important, how our domestic students tap into that. My own personal interest in having international students here has fundamentally to do with the fact that for many of our domestic students, the closest they're going to come to travel will be an international student that they room with in housing, that they're in a club or organization with, that they're taking a class with, that they're doing a group project together with – where they have to learn about each other.
International students coming into our environment here bring the world to our domestic students. To me, that is the public policy and the educational reason for enrolling international students, to enrich the learning here by what these students bring, and to send what those students learn here out across the world.
You were elected the first African-American Associated Students president in 1973-74. What was the environment like at the time?  The campaign was not an easy one. There was a lot of nasty political behavior. It was a clearly a time for students of color to come together and support change.
Clearly, it was a goal. It was a source of pride. It came with all that you might imagine in terms of expectations and challenges of being the first. But I have really embraced that in my space and time here at Northridge. I view myself as a translator and a bridge builder and a connector. And to try to create space for people to find one another in the richness that exists within us all.
So much of our understandings back in that time were rooted in fear or contrived differences, stereotypes. I was just blessed with the ability to endure some of that uncomfortableness in order to create a context for people to understand people of color as in some ways not vastly different from themselves, but just having had different journeys in getting here. Getting over those bridges was important, and I was happy to be a part of that.
What were your thoughts upon receiving the Legacy of Hope Award for all those years spent in service?  I was tremendously humbled by it. It was certainly very meaningful to me that that Hope Community Development Center is nested in the work of individuals who started here as students, and went on to form a ministry. They had not only a heart for ministry, but also a heart of service to community, and have used their talents to find a context by which – through the corporation – to reach out and serve a community that in many ways is ethnically different than the majority of that congregation.
Being at Northridge, and having an impact on the community, takes me back to the day. We talk so much about being relevant and translating our work into service. You'd be put down back in the day if your efforts were all about you. What the award says is that some part of my work has been about about service to others. That that might be recognized is special to me.
After looking back at the past 40 years, what would you like to see for CSUN in the next 40 years?  I'm really intrigued by seeing the public embrace us in a different way. There are too many people that don't really realize that they can come onto the college campus, and we need to make ourselves open to them. In addition, as my dear friend, Provost Harry Hellenbrand, says, we need to find ways as a university to go fix some things. Find some problems in our region where we can translate the resources of our very fine faculty and our bright and energetic students to go out, understand in a very authentic way, and partner with the community to do something that's really special and magical! That's the future I hope for us.