Jeffrey Felix: a Matador in Finance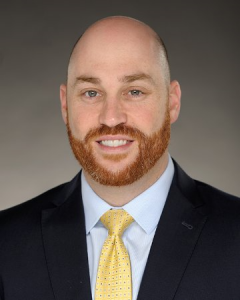 Jeffrey Felix '08 (Communication Studies) had his first lesson in finance during the Great Recession — he dreamed of becoming a master golf instructor, but demand for lessons had tanked along with the economy. Fast forward a decade, and Felix has climbed the ladder to serve as vice president and senior private banker at Wilmington Trust in Century City, still actively applying his refined communication skills in the workplace.
His dreams of becoming a golf instructor changed as he finished his studies at CSUN, so Felix needed a plan B. He sought the advice of a mentor, who played golf — and earned his living as a banking executive — who suggested Felix apply for an entry-level job at Union Bank that could lead to other opportunities.
"My friend told me, 'Banking is all about relationships, and you're already great at that,'" Felix said. "I hadn't thought of it that way, but before I knew it, I had a job as a personal banker and wound up working my way up the ladder."
The lessons Felix learned at CSUN helped him gain the business acuity that quickly developed into a career as a senior executive at Union Bank, Wells Fargo, East West Bank and now, Wilmington Trust.
"The short story is that banking really is all about fostering relationships with customers — whether it's getting approved for a loan, investments or estate planning," he said. "Banking is all about customer service and communication. That is what my communication degree prepared me for — writing, talking, presenting, reading body cues, et cetera — it all comes down to your ability to communicate your point effectively.
"It doesn't matter if you want to be a banker, journalist, accountant or nurse — in every single field, you have to be able to communicate and sell yourself," he continued. "The rhetorical theory classes I took helped me be able to articulate my ideas more effectively. Whether I'm asking for a raise or talking to a prospective new client, explaining why they should work with me, it's all about being able to articulate my ideas."
Felix advised fellow Matadors to think hard about their financial choices, but he also was quick to add that it's not just college students who have a hard time with managing money and financial goals. "I even know some doctors who don't know how to manage their money," Felix said. "It's crucial to educate yourself — to look up any questions you have online, or to take courses at your school. Look into interest, student loan debt, IRA savings plans — get to know how things work, because it will help your life tremendously."
At 33, Felix is a certified financial planner, and in 2019 he became a new father. He also serves as the board chair for the nonprofit organization The First Tee of Los Angeles, whose mission is to impact the lives of young people by providing educational programs and promote healthy choices through golf. Felix, who still plays regularly, hopes to pass on his love of the game to his son, Nicklaus.