LAUP 2014 Preschool Teacher of the Year Award Goes To CSUN Alum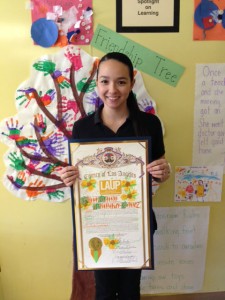 Ever since Kana Brubaker-Gomez '08 (Child Development), M.A. '12 (Early Childhood Education) was young, she knew she was going to be a teacher — especially for young children. She loved helping her mom babysit, and at age 13, while other kids her age couldn't wait to get out of school, Brubaker-Gomez volunteered at a preschool. Every day, she helped teacher Lisa Sanchez clean up and prepare for the next day.
"[Sanchez] was like my role model," Brubaker-Gomez said. "She owned her own center, the parents and children loved her, and she made a positive impact on the children and families — inspiring me to want to have a meaningful career teaching preschool as well."
Those early seeds paid off this year when Brubaker-Gomez, a preschool/pre-K teacher at La Petite Academy in Lancaster, was awarded the 2014 Preschool Teacher of the Year Award from Los Angeles Universal Preschool (LAUP). The 10-year-old nonprofit organization coaches, funds and advocates for quality preschool in LA County.
"It is the greatest honor to be recognized by LAUP," she said. "Not only do they support, encourage and coach teachers on the use of developmentally appropriate and best practices, LAUP is current with the newest trends and developments of early childhood education. I've learned so much from them over the past five-and-a-half years."
"Kana is the kind of teacher that children will remember for the rest of their lives," said Celia C. Ayala, CEO of LAUP. "Teaching is a special calling, and LAUP is excited to be able to recognize Kana, who represents the best in Los Angeles County. There's no better job than guiding children down a path of success."
The accolade is a reward for years of training and development for Brubaker-Gomez, which started at California State University, Northridge. She credits her time at CSUN with helping her learn about child development theories and different domains of development, as well as gain the skills and ability to apply developmentally appropriate practices to children. It also allowed her to fulfill the dream she had since helping Ms. Sanchez fix up her classroom: teach preschool/pre-K-aged children.
"This is the best, most fun age to talk to and interact with children," Brubaker-Gomez said. "They have so much imagination and are incredibly motivated to play, learn, explore, discover and create. They are also at an age when they are learning the most — not only about themselves, but about others and the world around them, along with academic skills to prepare them for kindergarten and beyond.
"I teach because this is where my life has led me. It has given me the best early childhood education‎ experience and educational opportunity by allowing me to study [in] CSUN's well-known child development program. I feel as though I've been surrounded by and trained by some of the best in this field and I'm just a reflection of that, striving to achieve my success by serving the children and families in our community."