Child and Family Studies Center Lab School Celebrates 50th Anniversary
California State University, Northridge's Child and Family Studies Center Lab School will celebrate 50 years of inclusive early-childhood education, with a "casual backyard party" at 2 p.m. on Sunday, May 7,  at the center's playground area.
The Lab School has been a presence on CSUN's campus since 1967, serving as a preschool program and a training facility for university students studying early childhood development and education. The school operates within CSUN's College of Health and Human Development.
The 50th-anniversary celebration will commemorate the center's accomplishments and founders while emphasizing its pursuit of continued excellence. Light refreshments will be served, and guests are invited to participate in a silent auction fundraiser event.
"The need for quality child care in the community and the need to produce well-educated professionals in the field of early childhood education has never lapsed," said Christa Dunlap, program director for the Child and Family Studies Center. "[The celebration] is highlighting how important high-quality early childhood education is, and we owe it to the new generation to continue to serve them in that way."
The Lab School's directors said they believe scholastic advancements are as important as character development, and its teachers strive to make the learning process fun and constructive. Ashleigh Larson, a Lab School parent, said this approach made her daughter excited to attend the preschool program.
"My daughter begs to go to school, even on her days off," Larson said. "Their play-based philosophy [has] prepared my daughter to succeed socially and academically when it's her turn to enter kindergarten."
"It's not just about academics," Dunlap said. "We look at the whole child, and that includes how to best develop their creativity, imagination and motor skills."
In addition to serving children and their families, the Lab School offers CSUN students learning about early childhood education an opportunity to observe and interact with children, under the guidance of experienced teachers and faculty. The center also employs nutrition and kinesiology students who devise snack menus and help children develop their motor skills, respectively.
The program is accredited by the National Association for the Education of Young Children and works closely with the CHIME Institute, a national leader in developing and implementing model educational programs. The Lab School implements CHIME's Inclusion Program, which has children with disabilities learning side-by-side with non-disabled children.
"One of the things that is unique and wonderful about the Lab School is our collaboration with CHIME that came about in 1990," said Annie Cox, director of the CHIME Preschool Inclusion Program at the Child and Family Studies Center. "Providing support for children of all abilities became much easier to do."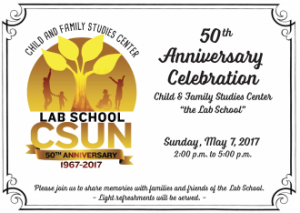 Throughout the years, the Lab School has fostered valuable, close-knit relationships between faculty, students and families, Dunlap said.
"I really feel like the Lab School is a family," she said. "I've had so many people tell me that — parents and university students alike. We take care of each other, and early childhood is traditionally nurturing. There's just a connection."
The celebration is open to the public. The Lab School is located at 18330 Halsted St. in Northridge, next to CSUN's Associated Students Children's Center. Tickets are available through Eventbrite and cost $30 for adults and $10 for kids. All proceeds directly support the Child and Family Studies Center.
For more information, contact the Child and Family Studies Center at (818) 677-3131.