CSUN Biology Students Study Biodiversity at the Source in Ecuador, Galapagos Islands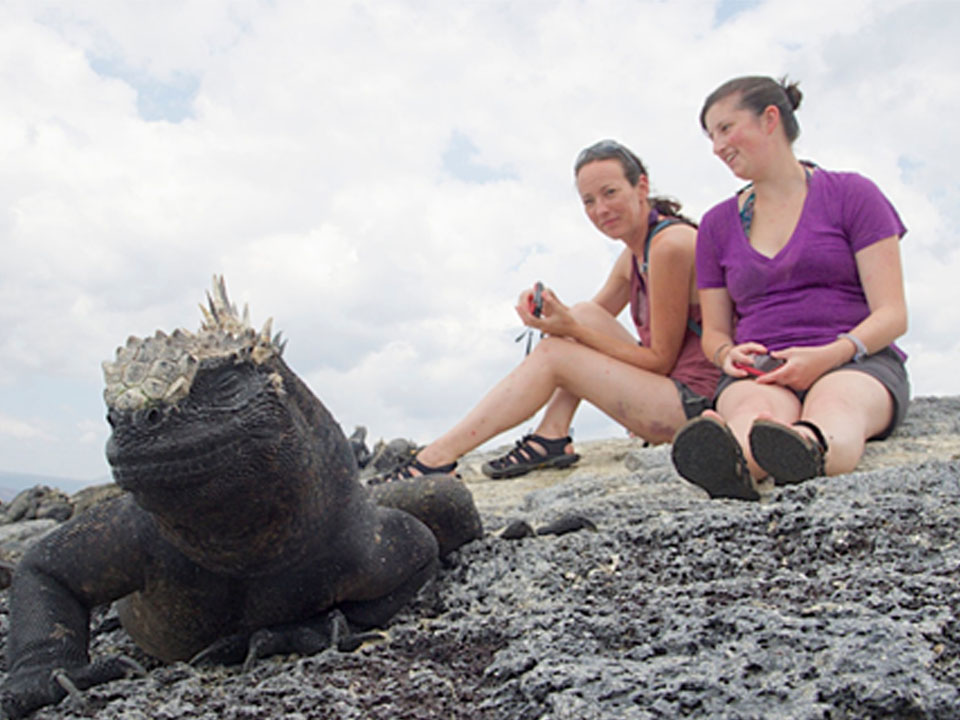 CSUN students Andrea Haberkern (left) and Leah Jacobs (right) study the marine iguana up close in the Galapagos Islands.
Ecuador is only about half the size of France, but the country is one of the most biologically diverse spots on the planet — nearly 17 percent of the world's plant species and 20 percent of the world's bird diversity live in its forests.
That's why California State University, Northridge invites undergraduate and graduate biology students to travel to Ecuador and the Galapagos Islands as part of the Tropical Biology Semester program, a special package of courses offered every other year.
Twelve students recently completed the program, spending four weeks on campus to attend lectures and participate in labs and short field trips before heading to Ecuador for the majority of the semester.
Once there, students worked on two independent research projects each and learned about tropical ecology and conservation, in Amazonian and high-elevation forest regions. They also spent eight days on the Galapagos Islands, where more than 20 percent of the marine species are unique to the area.
After the trip, the students returned to CSUN for the final four weeks of the semester, presenting their work in a mini-symposium to the Department of Biology and the College of Science and Mathematics. Professors David Gray and Fritz Hertel and associate professor Tim Karels lead the expedition every two years.
"It's an opportunity of a lifetime to do first-hand research in an amazing location," said Karels. "A lot of the undergrad students have gone on to master's programs after the semester. They really got hooked on the research and the diversity of Ecuador and the Galapagos Islands. It's a right of passage for a biologist to be able to walk in the footsteps of Charles Darwin."
Andrea Haberkern, who recently returned from the trip during her final semester as an undergrad student in evolution and ecology, couldn't agree more.
"It's priceless to be able to get this kind of field experience — you're really treated like a biologist, and whatever your passion is, you get to study it," said Haberkern, who learned during the trip that she had been accepted at CSUN as a master's candidate in biology.
The first of Haberkern's two projects in Ecuador examined the environments in which small mammal populations were the most diverse. Her second project, inspired by her longtime fascination with bugs, studied the correlation between a spider's body shape and how it forages for food.
"This was one of the most incredible experiences I've had," she said. "We were so remote, and every day brought a new surprise. To be able to study like that in someplace so beautiful is something I'll always remember."
Visit http://www.csun.edu/science-mathematics/biology/tropical-biology-semester for more information on the semester program.