CSUN Celebrates Mentors for their Exceptional Work with Students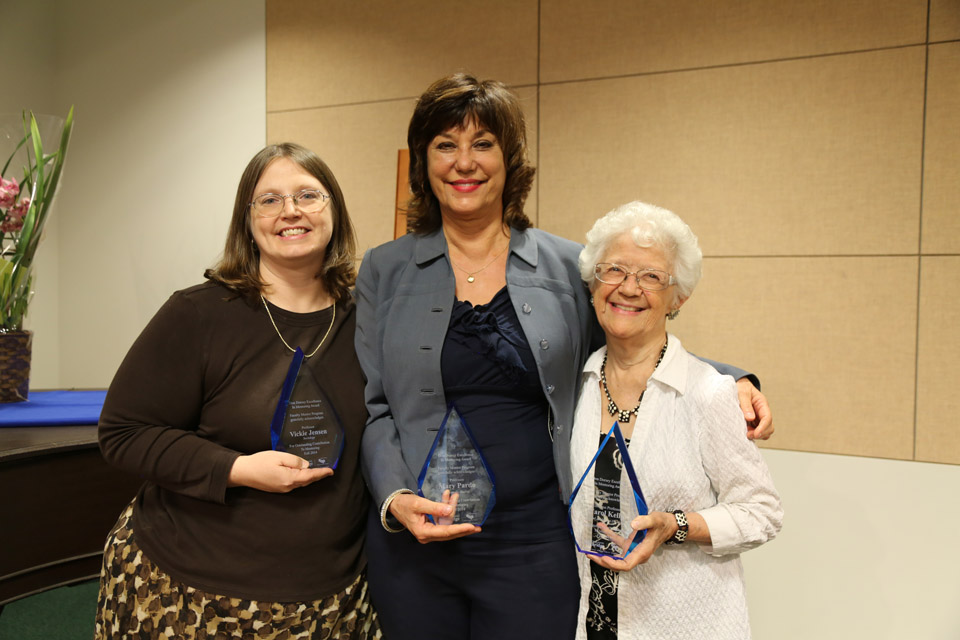 Sociology professor Vickie Jensen , Chicana/o Sudies professor Mary Pardo child and adolescent development emeritus professor Carol Kelly were honored for being great mentors at the 2014 Don Dorsey Excellence in Mentoring Awards. Photo by Leslie De Leon Tzic.
California State University, Northridge gave special recognition to faculty and staff members who are dedicated to mentoring students to success. Four extraordinary faculty and staff members at CSUN received the Don Dorsey Excellence in Mentoring Award for going above and beyond their job to serve students in any way possible.
On Nov. 12, the annual awards reception — presented by the Faculty Mentor Program — recognized sociology professor Vickie Jensen, child and adolescent development emeritus professor Carol Kelly, and Chicana/o studies professor Mary Pardo for their holistic approach to mentoring students academically and personally. In addition, a special posthumous award was presented to the family of the late Dr. Mack Johnson, former associate vice president of graduate studies.
"While we do spotlight those who are recipients of our mentoring awards, we also emphasize the importance of recognizing all who are nominated," said Glenn Omatsu, coordinator of CSUN's Faculty Mentor Program. "Each nomination is an honor because someone took the time to describe the powerful impact of a faculty or staff member on the lives of others."
The Dorsey mentoring awards were established in 1998 by the Faculty Mentor Program and the Educational Opportunity Program (EOP). The awards are named after professor Don Dorsey of educational psychology and counseling, who helped develop CSUN's first mentor training program and devoted himself as a mentor to innumerable students.
Jensen has been a professor in the Department of Sociology at CSUN since 1997. Her nominator and colleague, professor James David Ballard, wrote as part of the nomination letter that he has "used her skills as a mentor to assist especially first-generation students who seek a pathway to greatness at CSUN, all the while encouraging them to give back to their communities, this university and society."
Students and alumni have praised Jensen for her engagement and research in the issues related to victims of domestic violence.
"It's my hope that my mentoring does make a difference, and it is also something everyone should be doing," Jensen said. "I see students as a whole person. It's the most meaningful thing you can do for them."
Kelly began teaching at CSUN in 1969 and continues to mentor students through her department's Alumni Association chapter. She was nominated by Marta Gonzalez, president of the CSUN Child and Adolescent Development Alumni Chapter. Gonzalez said Kelly has had a huge impact on her life during the past 12 years and was one of the leading forces in establishing the alumni chapter at CSUN.
"When I decided to return to school in my 20s, I attended Moorpark College and was inspired by a professor and a counselor who I later learned were mentored by professor Kelly when they were CSUN undergraduates," Gonzalez said. "When I transferred to CSUN, professor Kelly became my mentor."
Pardo is the current chair of Chicano/a studies and is being honored for her nearly four decades of support to EOP. She is the author of "Mexican American Women Activists: History and Resistance in Two Los Angeles Communities." Her areas of expertise focus on women of color and grassroots activism, urban sociology, women and work, and feminist theory.
"Professor Pardo is more than just a professor," said MEChA leader and student Susan Amezcua. "She is an amazing mentor, friend, advisor and a phenomenal role model who always supports the students. Her passion for social justice and education is what motivates us, the students, to get involved in our communities and become the future leaders in this society."
The special posthumous award was presented in memory of Johnson, who in addition to serving as associate vice president, worked as a professor of biology. Johnson, who passed away in 2012, was recognized for his dedicated service to EOP and CSUN.
"For 25 years, Dr. Mack Johnson led the office of graduate studies research and international programs," said Hedy Carpenter, associate director for graduate programs. "Mack was instrumental in moving CSUN toward its mission of research and graduate studies. He truly loved this institution, and his greatest joy was mentoring both students and faculty."