CSUN Provides a Pillow Paradise for Students During Finals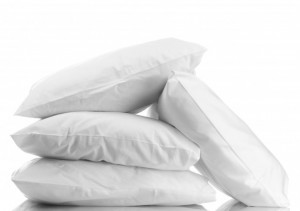 Finals week is an especially rigorous time for even the most well-organized and driven students. With this in mind, the Delmar T. Oviatt Library at California State University, Northridge is once again encouraging exhausted Matadors to "Take a Study Break."
CSUN's library for years has extended its hours during finals periods to ensure that students have round the clock access and support. The Oviatt's carefully planned "Study Break" series brings fun, distraction and relaxation to the library's already extensive list of vital academic resources.
"With our extended hours at the library, we see and serve a lot of additional students," said Coleen Martin, librarian and coordinator of outreach services. "We are looking for a way to support student breaks between long study sessions. Last year, one of the things we did was offer pillows to students during finals."
The students' reaction, according to Martin, was overwhelmingly positive.
In addition to free pillows, the week of stress-reducing programming also will include a variety of diversions and activities. These include a wide range of arts and crafts, as well as a graffiti wall. On one of the days, therapy dogs will be on campus to provide much-needed licks of encouragement.
Free pillows will be available to students at the library's guest services desk beginning on Sunday, Dec. 7. Official "Study Break" event programming will run from Wednesday, Dec. 10, through Monday, Dec. 15. All events will be held in the Automated Storage and Retrieval System (ASRS) viewing room on the first floor of the library's east wing. For additional information, times and details, please visit the Schedule of Events online.
The Oviatt library is located at the center of the California State University, Northridge campus at 18111 Nordhoff St. Parking is $6, and daily permits may be purchased at the kiosks, information booths, or in advance online at The Permit Store. For information about all library events, please visit the Exhibitions and Events page online or call (818) 677-2638. The Oviatt Library serves as the main research facility in the San Fernando Valley.