CSUN Faculty Develop Way to Measure Labor Market Outcomes of Higher Ed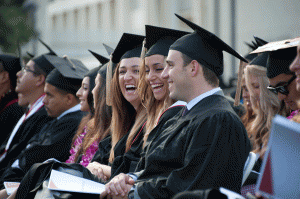 For the past several months, President Barack Obama has been pushing for a new rating system for colleges that, among other things, would judge schools on performance, including the success of their graduates.
While political pundits debate what that means, a pair of California State University, Northridge faculty members in the College of Business and Economics have developed what they believe is a fair way of measuring the success of college graduates using state employment and tax data to track how much alumni earn one year, five years and even 10 years after they graduate from an institution. Their method takes into account students who drop out or transfer to another institution, and tracks the success of students who go on to graduate school.
"It's clear from all the talk that the public really cares about outcomes in higher education," said management professor Richard Moore, who teamed with economics professor Kenneth Chapman on the project. "If we don't create a valid measure, then we in higher education are going to have something imposed on us."
Moore, Chapman and Bettina Huber, CSUN's director of institutional research, established five guiding principles they believed would create an effective, non-biased way of assessing the success of an institution's students:
follow all matriculated students over time; use standard data sources available in every state, such as employment records and tax rolls;
create standard, easy to understand labor market measures;
break down the data to the campus and program level; and
make the results publicly available.
Their model was published in a policy paper by the Center for Studies in Higher Education at UC Berkeley.
Chapman said their study not only measures the success of those who graduate from an institution, but also tracks the outcomes for anyone who "had contact with the university, whether they graduated or not."
That data, the team argues, provides a more comprehensive picture of how higher education, even for those who drop out of college or never complete their graduate degrees, economically impacts a state.
"Other states that have done similar studies only look at those who actually graduate," Moore said. "Nationally, only about 50 to 60 percent who start college finish. If you want to get a complete picture of the impact of higher education, you have to look at everyone who comes in contact with higher ed, not just those who graduate."
Chapman and Moore said their method for measuring the success of a college's students could provide students, and their parents, a valuable tool as they weigh college costs and offerings when deciding where to go to college. It even offers a glimpse at industry hiring trends.
Moore and Chapman used their method to measure the success of CSUN students.
Working with the university's Office of Institutional Research, they collected the records for all entering students, including first-time freshmen and transfer and post-baccalaureate students, for the years 1995 to 2000. They got information for a total of 44,437 students.
"That information allowed us to trace all students who graduated from the university, as well as those who left before they graduated, whether because they dropped out or left to go to another school," Moore said.
The pair then compared that information to data, including unemployment and salary records, compiled by California's Employment Development Department to track the employment and earnings of the students, who have left the university, as graduates, transfers to other institutions or dropouts. While the state records did not include people who moved out of state or dropped out of the labor market, they do have data for a substantial number of the people who enrolled as CSUN students from 1995 to 2000. Using that information, Moore and Chapman were able to assess the labor market outcomes for about 70 percent of those CSUN students in all eight of the university's academic colleges down to individual academic departments.
They found that one year after graduating with a bachelor's degree, the average annual salary of a CSUN alumnus was about $32,000, compared to only about $24,600 for a student who dropped out. Five years after graduation, the average annual salary was nearly $49,000. For those who completed graduate degrees, the average annual salary was more than $56,000 the first year out and more than $68,000 five years out. Moore and Chapman expect to have the salary earnings data for 10 years after leaving higher education completed by the end of this year.
"There's a lot of talk out there about who graduates and who doesn't and how successful they are," Huber said. "What this study does is take a look at who graduates, who doesn't and what happens after they leave college, in great detail. A lot of campuses would kill to have this much data about what is going on with their own students."
The results of their study of the CSUN students can be found on the university's Office Institutional Research website in the "CSUN By The Numbers" link under Alumni Earnings.
"People are asking what are were trying to accomplish in higher education? The answers include a richer life, better citizenship, economic status," Moore said. "But how do you measure that? If I could go to every graduate and ask 'can you read a book critically?' that's a good indicator. I think voting is a great indicator. I think leadership in the community is a great indicator. But there are no data bases for those kind of things. There is one set of information that we can get, and that's economic data. So, we're starting there. I'm not saying the other things aren't important, they are, but this is one area that we can measure.
"If they are going to make us do this (measure graduate success), then let's do it right," he said.
Chapman added, "The goal is to have honest numbers and numbers that people can understand intuitively. And we have to have numbers that mean something."