CSUN Follows PACT for Teaching Success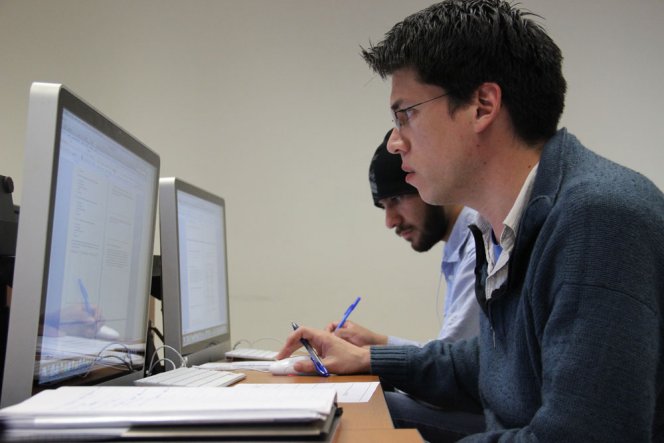 Mario Martinez, a graduate student in CSUN's teacher preparation program, examines a high school algebra test he created for a class assignment. Photo by Jackie Mader/The Hechinger Report
The California State University, Northridge students currently studying to become teachers are now entering the field with a greater understanding of lesson plans and interaction with kids than ever before. This is partially due to training innovations we've recently told you about, like the TeachLivE system, the virtual classroom that allows teaching hopefuls to focus on the act of educating real pupils by using digital avatars of them.
For the past six years, the students have also been preparing for the PACT (Performance Assessment for California Teachers) exam. The test measures a teaching candidate's aptitude in creating tests and analyzing classroom results, and is the focus of a lot of the curriculum in CSUN's Michael D. Eisner College of Education. Many CSUN educators say the PACT zeroes in on critical areas of good teaching—like planning lessons with strong student assessments and modifying lessons for English-language learners and students with disabilities.
"The PACT certainly has forced us to give greater attention to certain aspects of what it means to teach and to deliver a lesson more effectively," David Kretschmer, chairman of CSUN's Department of Elementary Education, told the Center for Investigative Reporting. "We are churning out a better product, if you use that expression, than before we adopted PACT."
The test, which was approved as a part of the credentialing process in early 2007 by the state's Commission on Teacher Credentialing, often takes a semester to complete and results in dozens of pages of essay reflections. It attempts to assess whether an aspiring teacher is able to teach multiple learners in real classrooms.
"Does PACT make a better teacher? No," said Nancy Prosenjak, a professor at CSU Northridge. "But I think we have a substantial program that's research-based; we have the PACT," she added. "So with all of those [teaching tools], maybe we have better teachers."
For more: California Test for Aspiring Teachers Serving as Model for National Exam (Center for Investigative Reporting)
Photo Caption: